AMWU members at Qantas are considering a landmark agreement delivering wage rises upwards of 17 per cent, with the possibility of new career opportunities for workers performing daily maintenance which is essential to keeping the airline's fleet safely in the air.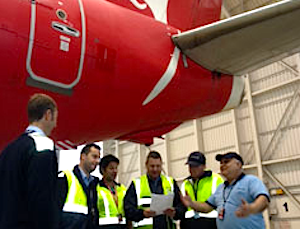 AMWU revealed the agreement. which will be voted on in coming weeks, provides incentives for more maintenance members to progress to qualified A licence aircraft engineers, in turn providing long-term career security against the backdrop of recent Qantas job shedding.
AMWU Qantas delegate Glenn Wilcox believes, it recognises the increased responsibility that AMWU members already have for the daily line maintenance of modern passenger aircraft, including tasks and inspections between flights which in the past had to be signed off by Licensed Aircraft Engineers.
"This has been an eye-opener for many members, there was some surprise Qantas put such a decent deal on the table. It's a very different time – this union agreement provides security for our members at Qantas for the foreseeable future and is one of the best outcomes I've been involved in," said Mr Wilcox
Nearly 1000 unionists in Sydney and Melbourne have reportedly welcomed details of their new career structure, which features improved trades wage rates at all levels topped by an all-purpose allowance of $70 to $115 weekly payment for those who get issued an A licence.
The agreement could boost wage levels by $8000 to $10,000 per year for a members who hold an A licence.
Annual wage increases will be 3 per cent minimum but are expected to average 4.29 per cent over the four years of the new agreement for members of the AMWU and airline alliance unions the CEPU and the AWU.
Qantas is set to begin training at least 30 aircraft engineers for A licences each year.
AMWU National Assistant Secretary Glenn Thompson revealed A licence engineers now had formal authority from the Civil Aviation Safety Authority to sign off on jobs they had completed on routine line maintenance.
"We're coming into line with aircraft maintenance practices that have been introduced across the globe, but it gives our members an opportunity to progress their qualifications, wages and career security," Mr Thompson said.
"Our Qantas engineering alliance of the three unions – AMWU, AWU and CEPU – has worked together to deliver a successful result for members built on us working together for the benefit of all members."