GE Global Research will be hosting a Google+ Video Hangout with leading experts in the field of additive manufacturing, also known as 3D printing, at midnight tonight (September 28, 12am AEST/September 27, 10am EDT).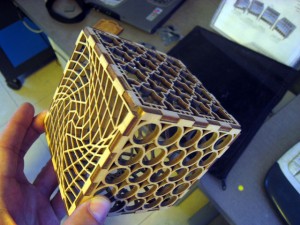 GE Global Research's Technical Director for Manufacturing and Materials Technologies Christine Furstoss will be moderating the interactive discussion with four other panellists: Avi Reichental, President and Chief Executive Officer of 3D Systems; Terry Wohlers, Principal Consultant and President of Wohlers Associates; Dr. Ryan Wicker, Professor of Mechanical Engineering, Director & Founder of the Keck Center, University of Texas at El Paso; and Rob Gorham, Deputy Director, Technology Development, National Additive Manufacturing Innovation Institute (NAMII) and National Center for Defense Manufacturing & Machining (NCDMM).
Ms. Furstoss says 3D printing is opening up a new world and a novel way of making things for the manufacturing industry.
"When you see what additive can do, it's easy to see why the hype is so big.  The way you make parts, components and products through additive is changing not only how we make things; it's changing what we can make," she said in a feature on their website.
"For centuries, we machined, milled or cast material into the shape we wanted. Now, we're building them up layer-by-layer into virtually any shape we want.  With additive, product designers are experiencing new degrees the freedom they have never had."
3D printing has grown leaps and bounds in the past few years as it continues to revolutionize traditional manufacturing processes. 3D printers and other related equipment are also becoming a lot cheaper, faster and more mainstream as companies come up with new technologies and more innovative ways to print products.
For instance, market leader MakerBot is shipping their 'Digitizer' this October, a 3D scanner that works by placing the object on a turntable while a laser shines over it, ultimately producing a 3D model in a file format which can be printed by MakerBot printers.
GE Global Research invites everyone to submit their questions for the Google+ Hangout ahead of time by going directly to the page or tweeting their questions using the hashtag #geresearchlive.