Buyers of Hino Australia's light duty trucks will be treated to a number of special offers over the next three months, including free automatic transmission upgrades, free reversing camera and the opportunity for customers to win back the purchase price of their truck.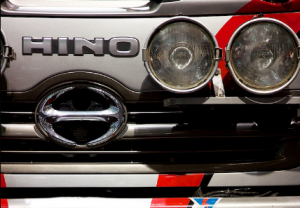 Hino Australia's Division Manager for Sales, James Morris said the upgrades to the company's 300 range series adds more than $3000 worth of value and improves the safety offering for Hino truck buyers, making it the best time in recent memory to purchase a new 300 series truck.
"The 300 Series is the safest it's ever been, further extending its mantle as Australia's safest light-duty truck, and we've packed it full of extra value," said Mr. Morris in a media release.
"Our integrated reversing camera offers our customers increased visibility and gives them the situational awareness to manoeuvre safely, regardless of the situation."
"The simplicity and ease of use of Hino's proven Aisin-based automatic transmission means Hino drivers can concentrate on the task at hand and their environment, rather than the friction point of a clutch."
The automatic transmission upgrade also enables customers to have greater control in low-speed environments, because of the low-speed creep ability of the torque convertor's automatic gearbox.
Aside from these the retail customers would also have the chance to win back the price of the truck in a special draw.
"Being able to win up to $80,000 back on the cost of a new Hino 300 Series is such an exciting concept for us and our customers; in most cases, this covers the entire cost of their truck," said Mr. Morris.
"It represents a huge bonus for owner-drivers and small business owners – every retail and small sole-fleet buyer of 300 Series trucks will go into the draw to win."
The recent safety upgrades expands the impressive suite of safety features currently being offered by Hino's 300 Series. The trucks now include four-wheel ventilated disc brakes with ABS, Brake Assist and VSC, reversing cameras, automatic transmission, front under-run protection system, dual front SRS airbags and a truck-specific satellite navigation system.
This underscores the value that Hino places on their customers' safety.
"The safety and comfort of our customers has always been at the forefront of our minds at Hino," Mr. Morris said.