A social manufacturing campaign to raise employment opportunities in the community of Narangba area in Queensland has recently been launched on the popular Australian crowdfunding platform Pozible.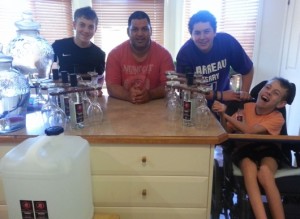 SocialCIC announced their new project called "Social Manufacturing by You for You" which aims to raise social awareness and give opportunities in their local area, especially to the disabled people in their community.
SocialCIC has begun manufacturing and distributing local indigenous water and is now seeking crowdfunding resources to help expand their facilities and management.
According to the press release from SocialCIC, the local water has provided a spiritual and cultural anchor for the indigenous Australians for centuries. The company bottles the water in the community and packages it in attractive glass bottles labelled with the artwork of local artist Jarreau. The bottled water is called "Jarreau Pure Indigenous Water".
In their Pozible page the team said they want to rebuild their communities and put people before profit, sharing the story of a young man named Brodie who has a terminal condition called Adrenoleukodystrophy (ALD).
"As we produce water under an indigenous label in a glass bottle, the display is beautiful. We will keep trying to make a sound social difference and continue to create jobs for those that need them the most. Our young bloke with ALD will be 18 in December and we know that nobody will give him a job, so we need to make this work. We need this new social manufacturing plant under the CiC to work," said the Pozible team.
"The answer we have found is Social Manufacturing, which equates to people before profit. We will use the product to make an impact on Brodie and other people."
The team also enumerated the many benefits of the project, including the very business model of CiC in which the profits are absorbed by job creation. The water is also packaged in a glass bottle, which is an eco-friendly alternative to plastic. It also uses a decentralised social manufacturing model and is a sustainable employment platform which caters to the indigenous, young, long term unemployed, single parents and people with disabilities.
"With the unemployment rate climbing not just in Australia but around the world, we depend on innovative creative people looking to incredible platforms like Pozible.com to find great projects which also serve a bigger purpose," said Gary Terry, founder of SocialCIC.
SocialCIC's social manufacturing project can be found on Pozible at the following address: http://www.pozible.com/socialcic
Their video is available on both YouTube and Vimeo at the following addresses:
http://youtu.be/XpEa4uqzTpg
https://vimeo.com/75682629