Aluminum producer Alcoa and the US Army Research Laboratory have launched a single-piece aluminum hull for ground combat vehicles, delivering even greater strength and durability and reduced weight and assembly time, apart from the safety benefits.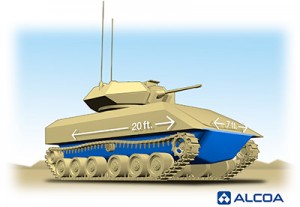 "For decades, the Army has recognized the survivability benefits of a single-piece hull due to its thickness, size and shape for ground combat vehicles," said Dr. Ernest Chin of the Army Research Laboratory in a media release from Alcoa.
"Our collaborative effort to develop continuous and seamless aluminum hull technology has the potential to be a game changer for how combat vehicles are designed and made to better protect our soldiers."
Alcoa's single-piece aluminum hull would improve the combat vehicle's performance through improved blast protection, increased damage resistance, efficient design and cost savings.
A single-piece hull would eliminate welded seams used in today's manufacturing processes, according to the company, and is expected to significantly improve protection as it covers the entire lower section of the combat vehicle.
The hull will also be produced using more of Alcoa's blast-absorbent alloys, and its thickness will be tailored in areas where maximum protection is needed, thereby allowing weight savings.
The structure is also expected to reduce costs over the life of the vehicle by increasing fuel efficiency through lightweighting and eliminating assembly time and complexity, according to the media release.
The joint effort to develop an aluminum solution was in response to threats posed by improvised explosive devices (IED), homemade bombs constructed and deployed in ways other than in conventional military action.
IEDs are cheap and easy to make, as evidenced by the deadly Boston Marathon bombings which happened earlier this year. IEDs are considered by security experts to be a growing threat as it is becoming a preferred tool of terror in both local and global attacks.
"The reason to use an IED or multiple IEDs is that you're trying to create an oversized impact, and as much panic and disruption as possible," Bill Braniff, the executive director of the National Consortium for the Study of Terrorism and Responses to Terrorism, told FoxNews.com in April.
In 2011 The Washington Post reported that the number of US troops killed in Afghanistan by roadside bombs, a kind of IED, soared by 60 percent in 2010, while the number of wounded almost tripled.
"Alcoa has helped the U.S. military stay ahead of emerging threats by innovating durable, lightweight aluminum technologies since World War I," said Ray Kilmer, Alcoa Executive Vice President and Chief Technology Officer.
"Our experts are now developing the world's largest, high-strength aluminum hull for combat vehicles to better defend against IEDs, the greatest threat our troops face in Afghanistan, while meeting the Army's affordability needs."