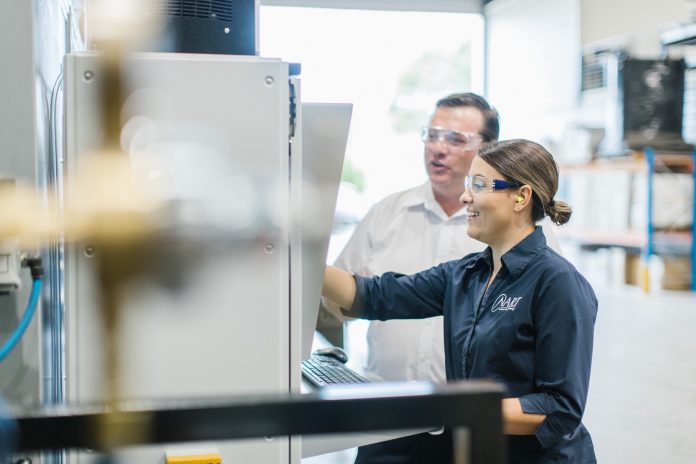 Media Release
More than 170 manufacturing professionals, innovators and students came together to celebrate women in manufacturing for the first 2020 Women in Manufacturing industry breakfast at Customs House in Brisbane this morning.
Speaking at the event, Minister for State Development, Manufacturing, Infrastructure and Planning Cameron Dick said inspiring women to take up a career in manufacturing is a key priority for the Queensland Government.
"These networking events are a key part of our Advanced Manufacturing 10-Year Roadmap and Action Plan," Mr Dick said.
"Already we have seen 14 state-wide Women in Manufacturing industry events rolled out in partnership with the Australian Industry Group.
"We are excited to partner with them again this year to deliver nine more events across the state in 2020."
Mr Dick said that today's event was particularly special because the State is currently celebrating Queensland Women's Week.
"This week we are reminded that diversity and gender equality are essential for economies and healthy communities to thrive," Mr Dick said.
"Already in Queensland we have amazing women in manufacturing who are designing and producing their products locally and enabling manufacturing jobs in Queensland.
"I am also proud to say that my Manufacturing Ministerial Council comprises over fifty per cent female representation".
Australian Industry Group's Queensland Head Rebecca Andrews said they are honoured to continue with the Women in Manufacturing series again this year.
"Each year we shine a light on inspirational women that are leading the way in the manufacturing sector. We are also very pleased to see an increased participation of students and teachers from around the state in this event.
"We all need to continue the message that manufacturing is a viable career path for our future workforce," Ms Andrews said.
Tubeworx's Sales Manager Shantelle Loyden said she loved what manufacturing offers young women.
"I have been able to enjoy a wide range of roles working in the family business. New technology in manufacturing has opened up so many more opportunities for young people and having a great attitude toward learning new skills is imperative," Ms Loyden said.
Mr Dick said manufacturing contributes around $20 billion each year to the Queensland economy and is a major employer with around 1 in 4 being women.
"We want to continue to build on this and encourage females to pursue careers in manufacturing, because attracting and retaining more women is important to a stronger manufacturing sector."
Brisbane speakers included manufacturing trailblazer's Dr Cori Stewart from the Advanced Robotics in Manufacturing (ARM) Hub, Amelia Luu from Design Robotics, Heather Sinclair from Volvo Group Australia, Shantelle Loyden from Tubeworx and Tim Morgan from Arnott's Biscuits.
For more information about the 2020 Women in Manufacturing series go to:
www.dsdmip.qld.gov.au/womeninmanufacturing
---
Image Credit:www.dsdmip.qld.gov.au/womeninmanufacturing