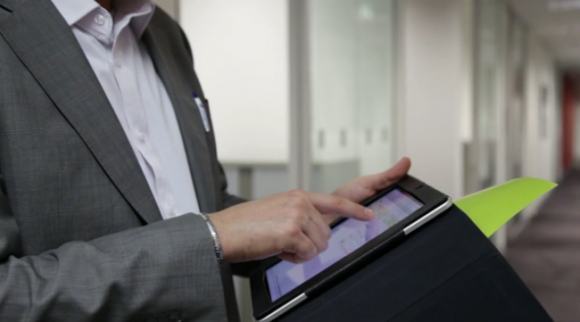 The tablet, specifically, Apple's iPad is not just a consumer good for the "cool kids" to play Angry Birds. Sales people use it, executives use it, even our prime minister falls in love with the tablet device. From boardroom to the highest level of government, people are using tablets more productively.
According to The Age, Prime Minister Julia Gillard uses an iPad to read classified and cabinet documents and other briefs. It makes transporting documents more secure and of course, cuts down on time and paper.
While the PM and many other early tablet adopters chose Apple's sleek and fashionable device, others think the iPad lacks the capability to run business applications such as Powerpoint and Flash.
What the iPad lacks, other innovative manufacturers made up for it. The Lenovo ThinkPad Tablet, the ASUS EePad Transformer which includes a full keyboard dock that turns your tablet into a netbook when connected, Blackberry Playbook and the upcoming new models that will sport Windows 8 operating system all have its fair share of the tablet market. The choice is endless and many more will appear on the market to address business concerns.
Andrew Fox, SAP's head of mobile and cloud solutions in Australia and New Zealand says this phenomenon is not surprising at all. People expect the usability, functionality and performance of these personal devices to be available at work as well. In addition, a new generation of workers who are dependent on consumer technology is adding the pressure for companies to adopt consumer devices to keep these Gen-Y workers engaged and productive.
Corporate Australia is enamoured with tablet devices, particularly due to its portability and functionality. EMC Australia and New Zealand, an information management company reveals that about 15 per cent of its workers use iPad for work, and the number is steadily rising. Executives travel a lot and it is easy to carry iPads around.
"When I go to the airport lounge, by the time I boot up and get connected (with a laptop), that's 10 to 15 minutes. With the iPad, I hit the switch and I'm sending mail," says Clive Gold, EMC Chief Technology Officer.
But mobility is not the only reason corporate Australia loves iPad.
RSM Bird Cameron, an accounting firm says the sleek and flat design of iPad means it is not as intrusive as a laptop, which screen is up "like a barrier".
Law firm Slater & Gordon was reluctant to adapt iPad into its IT system, but now admits it is more convenient for traveling lawyers and board members, so they don't have to lug around board papers.
Success Factors, a cloud technology provider says at a recent conference, visiting delegates used their iPads to view agenda and speaker's information, reducing the need for paper. Talk about environmental sustainability and reducing printing cost!
The tablet devices come at the right time where there is a big shift in the way corporate brands position themselves. We are moving towards a time where corporations are starting to work in a more social way such as collaboration and sharing knowledge. Tablets support that and social media apps such as Facebook, Twitter and LinkedIn allows staff to connect with people globally.
What about a few harmless games of Angry Birds during breaks? A Leonard Reinecke from University of Hamburg claims "individual with higher work-related fatigue reported stronger recovery experience during gameplay." But if you get addicted like thousands others who reportedly cost the U.S. economy 1.5 billion in productivity loss, Ask Your Target Market can help you out with this infographic.