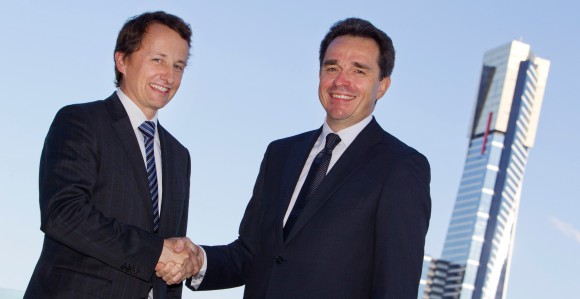 Much has been written about the rights and wrongs of the Australian carbon tax, but only a few shed some light on how  manufacturers can benefit from the situation. Visiting Dassault Systèmes executive Bertrand Sicot has the answer: Sustainable Innovation.
Mr. Sicot explained that Australian miners, engineers and manufacturers should worry less about the possible effects of the Federal Government's planned carbon tax and put more effort into designing their products in a sustainable way.
Threat or Opportunity?
While change is inevitable, manufacturers can see it as an opportunity to adjust their manufacturing process and adapt a more green direction. Instead of viewing the carbon tax as a threat to business and profit, Mr. Sicot suggested manufacturers to take advantage of this change and reposition their business direction.
As the world leader in Product Lifecycle Management (PLM), Dassault Systèmes shares their finding that 80 per cent of a product's cost and environmental impact is determined in the first 20 per cent of the design phase. So, the key is to take a holistic view of the impact of design decisions, considering at every step the material efficiency, production waste, disassembly, and recycling prospect of the project or product.
Sustainability is Not Just About Recycling
Every manufacturing operation, from design through to packing and transporting are factors to consider when companies are moving towards being sustainable. "Sustainability is not just from the aspect of environment. It is also about streamlining processes, reducing cost and labour" Gilles Cruanes, Managing Director of Dassault Systemes Australia said.
Dassault Systèmes' applications provide a three-dimensional vision of the entire lifecycle in a production – from conception, manufacturing, to maintenance and recycling. The company provides solutions that enable businesses of every size and sectors around the globe to design, simulate and experience tomorrow's products with their suppliers and consumers.
With the vision to create "virtual universes" and recognize the trend for a more "mobile" way of sharing resources, Dassault Systèmes' latest V6 Product Lifecycle Management platform extends the reach of previous version beyond on-premises to include mobile and cloud computing.The solution provides clear-access from anywhere with no restrictions on product versions or platforms.
An Innovative Solution for Small and Medium Manufacturers
Dassault Systèmes currently has more than 30,000 license-holders in Australia and New Zealand, including leading designers and engineers in the automotive, aviation, construction, defence, manufacturing and mining sectors. Pacific Brands who counts Bonds  as one of the many brands in the company use Dassault Systèmes products in their design process.
For small and medium sized manufacturers struggling to survive the challenges thrown in their faces, and skeptical about the real benefits of sustainable innovation, Mr. Cruanes shared the success story of CAAT Engineering. Based in Silverwater, NSW, CAAT Engineering manufactures gearbox. By developing their own Intellectual Property (IP) using Dassault Systèmes innovative solutions, they shifted from being a local supplier to a large OEM supplier and now exports to China.
Setting an Example
"Being sustainable starts with your mindset and behaviour," Mr. Sicot explained. While developing solutions for manufacturers to be sustainable, Dassault Systèmes is mindful of their responsibility to be a good corporate citizen. The company's headquarters in France is a purpose-built building accredited to High Quality Environment (HQE) standard, a French standard for green building.
"When we had a worldwide sales meeting, we had 350 people flew to Boston. We realized the carbon footprint we created so we donated a certain amount of money to an environmental organisation to offset this carbon footprint," Mr Sicot said.
The Future?
Speaking on the future manufacturing trend, the company's General Manager (South Asia), Sharon Toh said that in the near future, manufacturers will need to prove their green design initiatives and show that their products are sustainable, if they wish to be the vendor of a big company.
The world is changing and the way younger generation perceive things are different. This will influence their purchase decision and it is something manufacturers should be mindful about. In the next 10 years, product quality will not be the only consideration that influences buying decision. Sustainability will also be a big factor when customers are choosing a supplier.
"Today, sustainability is a trend. Tomorrow, it will be a mandatory," Mr. Sicot said.
About Dassault Systèmes
As a world leader in 3D and Product Lifecycle Management (PLM) solutions, Dassault Systèmes brings value to more than 130,000 customers in 80 countries. A pioneer in the 3D software market since 1981, Dassault Systèmes applications provide a 3D vision of the entire lifecycle of products from conception to maintenance to recycling. The Dassult Systèmes portfolio consists of CATIA for designing the virtual product – Solidworks for 3D mechanical design – DELMIA for virtual production – SIMULIA for virtual testing – ENOVIA for global collaborative lifecycle management, EXALEAD for search-based applications and 3DVIA for online 3D lifelike experience. For more information, please visit http://www.3ds.com or Dassault Systèmes YouTube channel  http://www.youtube.com/dassaultsystemes.
Image: Gilles Cruanes, Managing Director of Dassault Systèmes Australia (left) and Bertrand Sicot, Chief Executive of Solidworks, Dassault Systèmes (right)