RMIT Professor Aleksander Subic believes the sports manufacturing landscape is changing dramatically as he spoke about the future of the industry at the World Federation of Sporting Goods Industries (WFSGI) forum last December.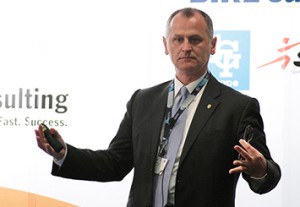 Professor Subic, Dean of Engineering and Head of the School of Aerospace, Mechanical and Manufacturing Engineering at RMIT, gave a keynote presentation which tackled sustainable design and manufacturing in the emerging sporting goods market.
"Significant changes are being considered in the way sports products are designed and manufactured, involving higher levels of automation, greater use of digital manufacturing technologies coupled with customisation and more integration across the key processes and the supply chain," Professor Subic said, quoted in an RMIT news release.
The main message of the forum is that manufacturing of sporting goods will change in the next decade. According to WFSGI, India is particularly predicted to contribute to the dramatic change in the industry due to the younger generation being an available workforce, and the country's emerging domestic market.
Another notable takeaway from the 2-day event is the incorporation of new technologies such as 3D printing in the industry.
According to Mr. Kah Fai Leong, Associate Professor at ISR Nanyang Technological University, Singapore, 3D printing will take the "the complexity out of manufacturing."
"The perspective on 3D printing is currently like seeing an iceberg. The top is seen, but the possibilities 3D printing offers are huge and have not been conceived yet by many manufacturers. It will change the mindset on manufacturing," he said.
Other key speakers were Professor Steve Evans, Director of the new EPSRC Centre for Innovative Manufacturing in Industrial Sustainability and the Centre for Industrial Sustainability at the Cambridge University Institute for Manufacturing, and Professor Haico Ebbers from the Nyenrode Business University, The Netherlands.
About 200 representatives from footwear, sports apparel and bicycles gathered for the forum. The WFSGI was founded in 1978 and is the world authoritative body for the sports industry officially recognized by the IOC as the industry representative within the Olympic family.