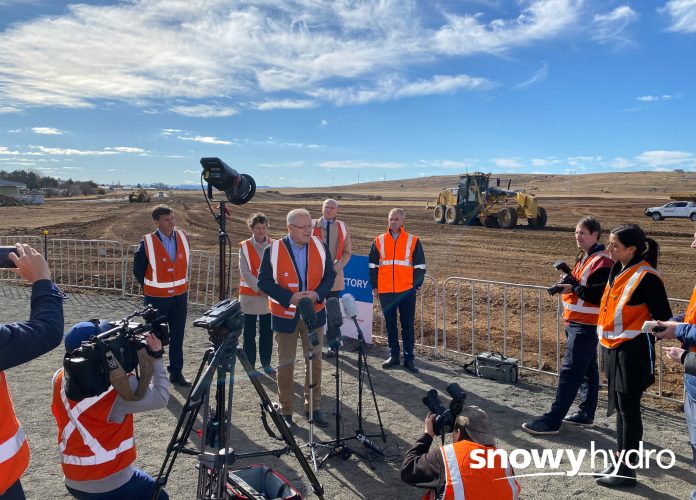 The Federal Government has given the go-ahead for energy company Snowy Hydro to commence main works on what will be the largest committed renewable energy project in Australia.
The Snowy 2.0 pumped-hydro project involves linking two existing dams, Tantangara and Talbingo, through 27km of tunnels and building a new underground power station.
Snowy Hydro's CEO Paul Broad said the Government's approval allows construction to commence on the underground power station, waterways and access tunnels, and other supporting infrastructure.
"This approval marks the next stage in Snowy 2.0's construction and brings our vision to become Australia's biggest battery and storage for renewable energy one step closer," Snowy Hydro's CEO Paul Broad said.
"It's full steam ahead for the Snowy 2.0 project that will pave the way for Australia's energy transition."
The Snowy 2.0 project, which is being delivered by the Future Generation Joint Venture as the main contractor, is expected to cost between $3.8 billion and $4.5 billion and is partly funded through a $1.38 billion equity injection from the Australian government.
Finance Minister Mathias Cormann said it would play a 'key role' in Australia's economic recovery from COVID-19 by creating jobs and boosting economic activity.
"More than 500 people and 100 local businesses have already been engaged on this project and we expect 5,000 direct and indirect jobs to be created over the life of the project, with the potential for many more jobs to be created locally and in the broader region through supply chains and support services," Minister Cormann said.
"The economic benefits of Snowy 2.0 will have an enduring impact on the Snowy Mountains region, with the project providing opportunities for local businesses, improvements in local infrastructure and increased economic activity well into the future."
Once fully operational, Snowy 2.0 will provide 2,000 megawatts of fast-start, dispatchable energy and 350,000 megawatt hours of large-scale storage – enough to power the equivalent of 500,000 homes for over a week during peak demand.
Energy and Emissions Reduction Minister Angus Taylor said in would drive down electricity prices across the National Electricity Market and deliver more reliable power.
"Snowy 2.0 is a defining project in our country's history and forms a key part of the Government's agenda to deliver affordable and reliable power," Minister Taylor said.
"The commencement of main works moves us a step closer to realising the benefits of Australia's largest renewable energy project, the impact of which will be felt by millions of Australians."
"Those benefits are clear – affordable and reliable power across the National Electricity Market to ease pressure on Australian households and businesses."
The first power generated from Snowy 2.0 is expected in early 2025, followed by progressive commissioning of its six generating units.
Image from Snowy Hydro Facebook