Austal USA has successfully concluded the launch process of the USNS Fall River (JHSV 4), the recently christened high-speed catamaran which represents the US Department of Defense's next generation multi-use platform.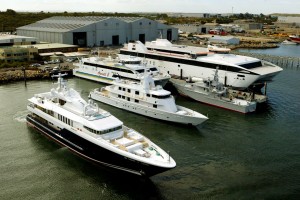 The USNS Fall River is the first of four navy ships to be launched at Austal this year and is part of a 10-ship program worth over US$1.6 billion.
The JHSV is a new asset that will be used in various naval activities such as Navy Expeditionary Combat Command and riverine forces, theater cooperating missions, Seabees, Marine Corps and Army transportation. Each JHSV also supports helicopter operations and also features a vehicle ramp which enables use of austere piers and quay walls, common in developing countries.
According to the media release from Austal, the 103-meter catamaran was transferred by Berard Transportation from the Assembly Bay 3 onto a deck barge, and was then towed to BAE Systems Southeast Shipyard. The ship was transferred to BAE's dry dock Alabama the following day, and was floated and returned to Austal's facility where it will undergo the final process of outfitting and activation before sea trials and delivery to the Navy later this year.
Austal USA President Craig Perciavalle commended the team for making the multi-step process seem simple than it really is.
"It's really amazing at how easy the team makes this complicated process look.  I appreciate the efforts of all involved," he said.
"With JHSV 3 recently completing Acceptance Trials and preparing for delivery, and now the launch of Fall River, the JHSV program continues to progress well as we meet our commitments to the Navy.  The incredible shipbuilders here at Austal should be very proud of this accomplishment".
The JHSV 4 is now one of four Austal-built Navy ships moored in the Mobile River, joining USNS Millinocket (JHSV 3), Coronado (LCS 4), and Jackson (LCS 6).
Austal is a world leader in shipbuilding, with 25 years of experience in the design, construction and support of customized, high-performance aluminum vessels for the commercial high-speed ferry market. Its primary facilities are located in Mobile, Alabama, Henderson, Western Australia and Balamban, Philippines. The Company also provides vessel support services from its facilities in the United States, Australia, Asia, the Caribbean, and the Middle East.