The Australian dairy industry is looking to improve its fertility and return by urging dairy farmers to provide as much mating data as they can for inclusion in the April 2014 Australian Breeding Values (ABVs).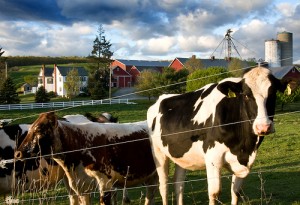 According to the media release on Dairy Australia, the request was met with a significantly increased response by dairy farmers, who have contributed much greater amount of fertility-related data to the Australian Dairy Herd Improvement Scheme (ADHIS), which is also supported by Dairy Australia.
The number of submissions has risen sharply between October and December 2013, with farmers submitting 858,110 mating records, 123,325 of which being from cows that had not previously been part of ABV calculations. This increase in submissions more than doubled the average increase over the last three years for the same period.
According to Dr David Nation, CEO of Dairy Futures Cooperative Research Centre, this was a very promising start to a coordinated industry effort to increase cattle fertility.
"Dairy farmers need breeding values in order to select for fertility, and breeding values are only reliable if they are based on plenty of good data," he said.
"Improving dairy cattle fertility is one of the CRC's key research focuses, and we know that a lot of quality fertility data is being lost. Farmers collect it for their own herd management, but it does not always flow from farms to data processing centres."
The collaboration between Dairy Futures CRC, the ADHIS and a range of other parties to maximize the industry benefits from the work being done on farms, has yielded great results.
"This recent boost in data is a very promising result from early adopters of the upgrade, and we hope to see even greater impact as more farmers get on board," said Mr Nation.
"Earlier work has improved the fertility ABV by incorporating more fertility-related indicators into the calculation model. This ongoing work with fertility data will unlock the benefits by channelling more data into the calculation. Collectively, we believe our fertility work will increase the six-week in-calf rate by 10% over time, which would return the fertility of the national dairy herd to levels not seen since the 1990s."
Mr Nation further added that the fertility data project was just one of the initiatives the CRC was pushing to improve dairy cattle fertility.
ADHIS Extension and Education Manager Michelle Axford urged farmers to make sure their data was included in ABVs calculations.
"We know there is a lot more quality data on farms that could be used to bring about faster genetic gain within herds," she said.
"We're asking farmers who use herd management software to check they are using the most recent version, and make sure they enter mating data by mid-February so it can be included in the April 2014 ABV calculations. We expect to see better fertility breeding values in April because more data is flowing."
The research is being conducted by the Department of Environment and Primary Industries, Victoria.