Dutch company DAS has begun construction works on the world's first 3D printed house called 3D Print Canal House.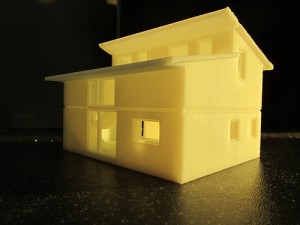 Almost one year ago, the company's architects built a specially designed printer called KamerMarker XL (Dutch for "room maker") and were in the process of printing 1:20 scale parts of the building.
Now, less than a year later, the company moved KamerMaker XL, a 3.5 m tall FFF printer, at the Buiksloter Canal in Amsterdam where the printing of the components for the 3D house has already begun.
According to the article on 3D Printing Industry, the printing of the components and the assembly work by construction company Heijmans is expected to take three years, giving other suitors for the title "creator of the first 3D printed house" a chance to come up with a more efficient house printing solution.
The building site of the 3D Print Canal House also acts as a space for research into architecture and additive construction, which is why each room of the house will be dedicated to different research areas. One of these areas will explore the use of smart data for efficiency purposes.
"3D Print Canal House will have a smart 'data fireplace' at the heart of the house. It distributes all resources such as water, energy and smart domotica and connects all rooms. As normally you can't see data, the 'smart data fireplace' visualizes in a poetic manner the energy & data usage in the house… Research topics are: How can we print with conducting material? How can we integrate sensors in digitally fabricated design?" explained company officials.
According to DUS architect Hans Vermeulen, the main focus of the project is to come up with a way to meet the housing needs of the world's population, especially for people who live in sub-standard living conditions in the megacities around the globe.