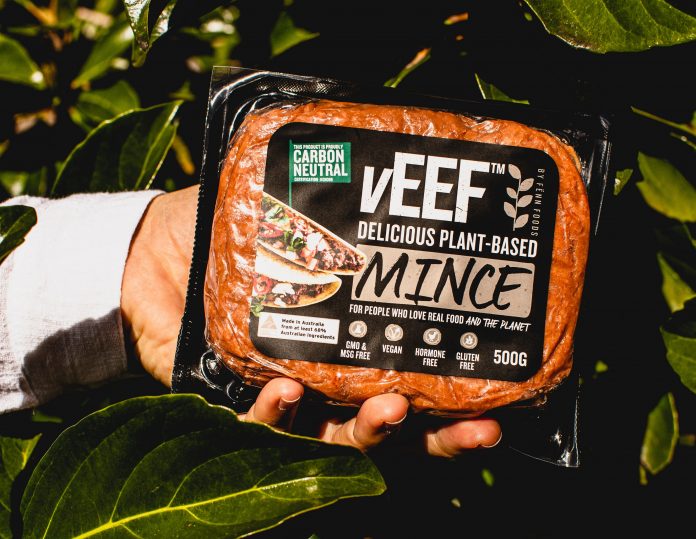 Media Release
Australian plant-based food company Fenn Foods is proving sustainability is serious business by launching the world's first carbon neutral 'meat', which company owners say is just the beginning of big things to come for the humble Sunshine Coast outfit.
The first-of-its-kind vEEF mince achieving its official carbon neutral certification is just tip of the iceberg for Fenn Foods, with the company believing 'saving the planet starts in your kitchen' and aiming to take its entire enterprise carbon neutral within a year.
"Including more plants in your diet is key to combatting climate change. A lot of people don't know meat and dairy production produces more greenhouse gas emissions than all global transportation combined," says Fenn Foods Co-Founder and vEEF creator, Alejandro Cancino.
"All plant-based brands generally feel they're going the extra mile and making a positive impact on the environment, but we thought: what else can we do, how far can we go and let's aim for zero impact and footprint on the environment."
This comes at a time when 'flexitarianism' – choosing more plants and less meat in your diet – is on the rise, with 2.5 million Australians currently identifying as plant-based eaters, driven by an increase in social consciousness around the environment, as well as health considerations.[i]
The process to carbon neutral certification is not an easy one but has been a long-time ambition for the Fenn Foods team and Alejandro, who traded in his chef's whites and Michelin Star status to become a pioneer of plant-based cuisine.
"The certification process took around six months with our partner, carbon reduction institute Noco2," explains Mr Cancino. "They check the whole process, from where ingredients are sourced to production of the production, right through to delivery to the consumer – every step that goes into making the product.
"You then need to pay to offset the carbon. It's a cost for the company we're happy to make, so it doesn't cost the earth. Our business model is around creating minimal harm; every single decision we make is based on impact."
While carbon neutral vEEF mince is now available in select independent retailers, Fenn Foods has also partnered with the first global carbon neutral meal kit provider, HelloFresh, with the mince set to appear in meal kits from February 2021.
Fenn Foods is also hoping to nab a coveted space in the chilled sections of supermarket giants Coles and Woolworths, the latter of which currently stocks frozen vEEF Smokey BBQ Burger Patties.
---
Image Supplied