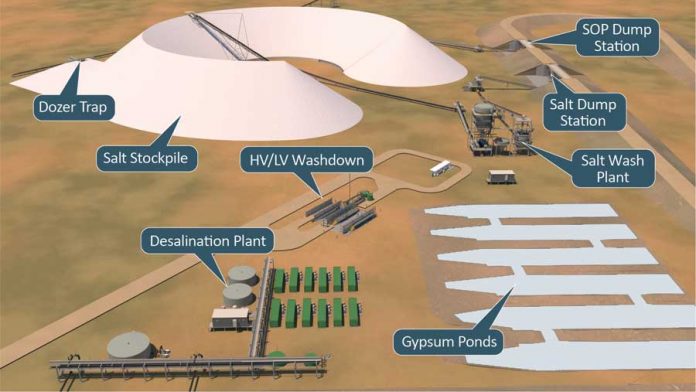 The Northern Australia Infrastructure Facility has approved a $450m loan for a major salt and potash production facility that will create hundreds of jobs in the Pilbara region of Western Australia.
The loan was approved for BCI Minerals' Mardie Salt & Potash Project, which involves construction of large ponds and crystallisers over a 100km2 area, two process plants and a new port facility for export of salt, sulphate of potash (SOP) and other products.
Making the announcement, Minister for Resources, Water and Northern Australia Keith Pitt said the project is expected to directly support around 450 jobs during construction, and around 200 jobs during its operational life.
"The NAIF loan will fund building of ponds, two processing plants, port facilities and other infrastructure for the project, which is forecast to produce more than 4 million tonnes of high purity salt and 100,000 tonnes of potash fertiliser a year," Minister Pitt said.
"The multi-user port facility will facilitate growth in other industries in the region by unlocking stranded assets and providing an efficient freight and supply chain channel.
"The project will also have significant benefits for the Karratha, Dampier and Onslow communities by creating opportunities in line with the Government's program to foster jobs and growth across northern Australia."
BCI's Managing Director Alwyn Vorster noted that the loan will be the largest NAIF allocation to a WA based company to date.
"Importantly, the loan will also provide significant momentum for BCI to secure the remaining debt and equity funding components required for Mardie's development," he continued.
"We acknowledge the strong support from various Federal and WA State Government ministers and departments."
NAIF's Chief Executive Officer Chris Wade added: "We are delighted to be able to support the development of the Mardie Salt & Potash Project which by supplying agricultural and chemical industries across Asia offers exciting export opportunities.
"Locally, the Project will also bring significant economic benefits to the Karratha, Dampier and Onslow areas."
Image credit: https://www.bciminerals.com.au/