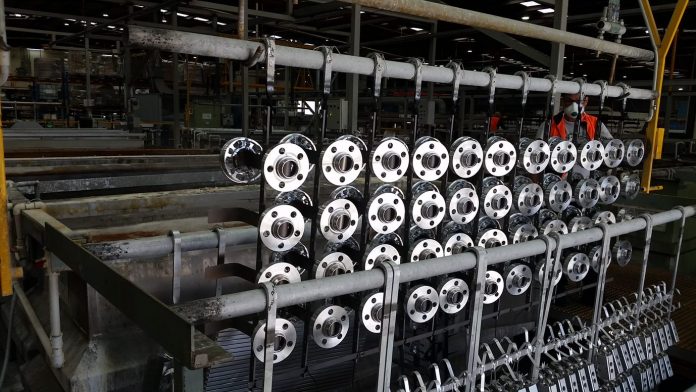 Product Release
Australia's leading metal finishing provider, DECO Australia, has unveiled its new-look anodising series, DecoUltra™ – a tailored, durable, corrosion-resistant and long-lasting protective solution suitable for a variety of engineering and manufacturing applications including CNC machined parts, machine and engine components and more. 
The new DecoUltra™ series features a range of different anodised finishes to suit project  requirements. The DecoUltra AD™ anodised range offers two superior finishes to enhance corrosion and wear resistance of aluminium parts: DecoUltra AD™, a 15 micron finish for protective and decorative applications and tightly-fitted parts, and DecoUltra AD+™, a 25  micron finish for extra durability. 
For extremely hardwearing applications, DECO has developed its unique series of hard anodised finishes: DecoUltra ZD™. This series of finishes has been developed to reflect the company's superior low-temperature hard anodising technology. ZD, short for Zero Degrees, represents the approximate temperature of the acid baths used in DECO's hard anodising process. Submerging aluminium components in zero-degree sulfuric acid creates a thick, dense aluminium oxide coating on the surface of the parts – more durable than can be achieved with standard anodising or other forms of chemical-induced hard anodising.  
This tough new range is offered in two standard thicknesses: DecoUltra ZD™ a 30 micron hard anodised finish, and DecoUltra ZD+™ a 50 micron finish for applications requiring the utmost strength, wear resistance and longevity. These superior durable coatings offer corrosion, abrasion, heat and wear resistance for parts, making them ideal for aluminium components used in high-speed machinery, automotive parts, defence components and applications where parts are exposed to moisture or salt spray. 
The DecoUltra™ range of finishes increase the longevity and service life of machine parts and improve productivity by reducing the need for maintenance and downtime for crucial machinery. This makes them a cost-effective option for manufacturers and engineers working across a range of industries. 
With in-house pre-treatment and quality testing also included in the process, such as salt spray testing, abrasion testing and testing to MIL-SPEC standard MIL-A-8652F Type III for defence applications, DecoUltra™ is a complete finish package for superior protection.  
DECO director Ross Doonan said ZD Ultra is set to challenge the industry benchmark for anodising and hard anodising in Australia.  
"With DecoUltra™, manufacturers and engineers will know they are receiving the highest quality anodised finishes that will protect their components for a long time to come," he said.  
DecoUltra AD™ and DecoUltra ZD™ are also available in custom micron thicknesses to suit specialised project requirements. 
For more information, visit www.deco.net.au/protective-coatings or call 02 9603 1888.
---
Image Supplied