Australian marine engineering group Birdon has won a $A290 million contract to supply around 374 specialty naval crafts to the US Army, according to a report from AAP.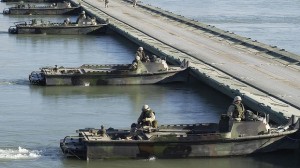 The Port Macquarie subsidiary has reportedly emerged on top of global competitors, including General Dynamics, to win the large defence contract that will supply specialised bridge erection vessels used to push pontoons into place to form temporary bridges.
In an article on Sydney Morning Herald, Birdon managing director Jamie Bruce was quoted as saying that the contract is a win for Australian innovation, proving that the country's SME's can compete with established international players.
"The tender process for US defence contracts is among the most competitive in the world and to win this one, Birdon beat off a number of globally recognised suppliers," said Mr Bruce.
"That's a testament to the expertise and ingenuity that exists in our defence industry and manufacturing sector generally."
Birdon was awarded the contract in November last year, but a protest was launched by a losing US bidder. The protest was eventually dismissed this month. In order to win the contract, Birdon had to have a US base, which it secured following the purchase earlier of a group based in Arkansas.