Toyota Material Handling Australia (TMHA) yesterday launched a comprehensive new range of counter-balance internal combustion forklifts from 3.5 to 8-tonne payload.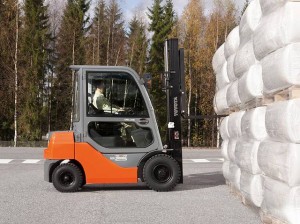 The new 8-Series range offers all of Toyota's industry-leading safety and economic features with the entire assortment of its internal-combustion forklifts, from 1 through to 8-tonne capacity, as well as improvements in fuel and work efficiency, reduced emissions, durability and reliability, operability and operator comfort, and visibility from the operator's seat.
According to the press release by Toyota Material Handling, the 8-Series range includes 3500kg to 8000kg pneumatic-tyre models with the choice of LPG, dual-fuel or diesel, as well as a compact cushion-tyre range of LPG-fuel models with 3500kg to 7000kg capacities.
The finest offering of the range is the new 65kW electronic fuel injection-equipped 3.7-litre LPG engine which offers fuel savings of up to 20% compared with the superseded model.
TMHA national sales and Toyota product manager Jim Lobow said the new forklift models were suited for both indoor and outdoor applications, including the paper, timber and concrete industries, as well as large distribution centres.
"Key safety features on the new, larger 8-Series models begin with Toyota's exclusive System of Active Stability," he said.
"It helps reduce the likelihood of lateral or longitudinal roll overs, and works in conjunction with Toyota's Active Mast Controller Function – which automatically matches lift height and load weight to help prevent dropped loads or tip-overs. In addition, the new 8-Series range has a vehicle travel-speed control system as standard equipment."
Mr Lobow said Toyota's new models were equipped with three new fuel saving features –  a load-sensing power-steering system to reduce power demand on the engine, an Economy or Eco mode to optimise the performance curve of the engine to work conditions, and a programmable Auto Engine Off feature on the LPG Dual Fuel engine models.
"Toyota has also reinforced its core strengths of quality, durability and reliability, further improving up-time," he said.
"It has redesigned the chassis and introduced fully stamped steel plate construction, while significantly reducing the use of cosmetic plastic. Critical controllers and relays are protected in a steel box and water-resistant connectors are used throughout."
Mr Lobow informed that reliability had been optimized with a 55% increase in engine radiator size and by adopting an external hydraulic cooler.
In addition, the new 8-Series models offer increased floor space, a larger step, a curvilinear overhead guard post shape and a smaller-diameter steering wheel, as well as a new steering system equipped with active synchroniser, so the angle of the steering wheel always corresponds to the angle of the steered rear wheels.