Axalta Coating Systems has announced that it is launching its new Nason® Industrial line of coatings in the Australian market.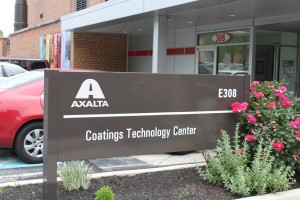 In a media release Stan Willmott, Axalta General Manager, Australia said their new Nason Industrial range addresses their customers' needs for a fast drying, light industrial coatings product that can maintain its gloss for a very long time.
"Australia is one of the first countries to launch Nason Industrial in the Asia Pacific region in response to customer interest in a wider spectrum of product choices that builds on the strength of our local manufacturing and research and development capabilities," Mr Willmott said.
The complete Nason Industrial coatings package consists of 24 key tinters and 6 binders giving the applicator a range of top coat options: QD alkyds, modified acrylic alkyds, acrylic polyurethane and ISO-free coatings. The tinters and binder combine to produce the full range of Australian Standard AS2700 colours, resulting in a finish that has outstanding gloss retention and exceptional durability, according to the release.
The colour offerings are supported by a range of primers: ZP Alkyd Primer, Etch Primer and ZP Epoxy Primer, which are designed for a variety of different industrial applications. Nason Industrial products can be applied by brush, roller and a variety of spray application methods and are designed for tough environments and difficult surface conditions.
Axalta has a strong field of technical consultants in Australia, with local manufacturing capabilities at its Riverstone NSW plant and a local Colour services team.
"Our launch of Nason Industrial reflects Axalta's assessment of the specialised requirements of commercial and industrial painters in Australia," said Mike Cash, Senior Vice President of Axalta and President of its Industrial business.
"Our global expertise in developing coatings for commercial transportation customers has made it possible to offer this cost effective Nason line."
Further details of the Nason Industrial product range can be found at: www.axalta.com.au/industrial