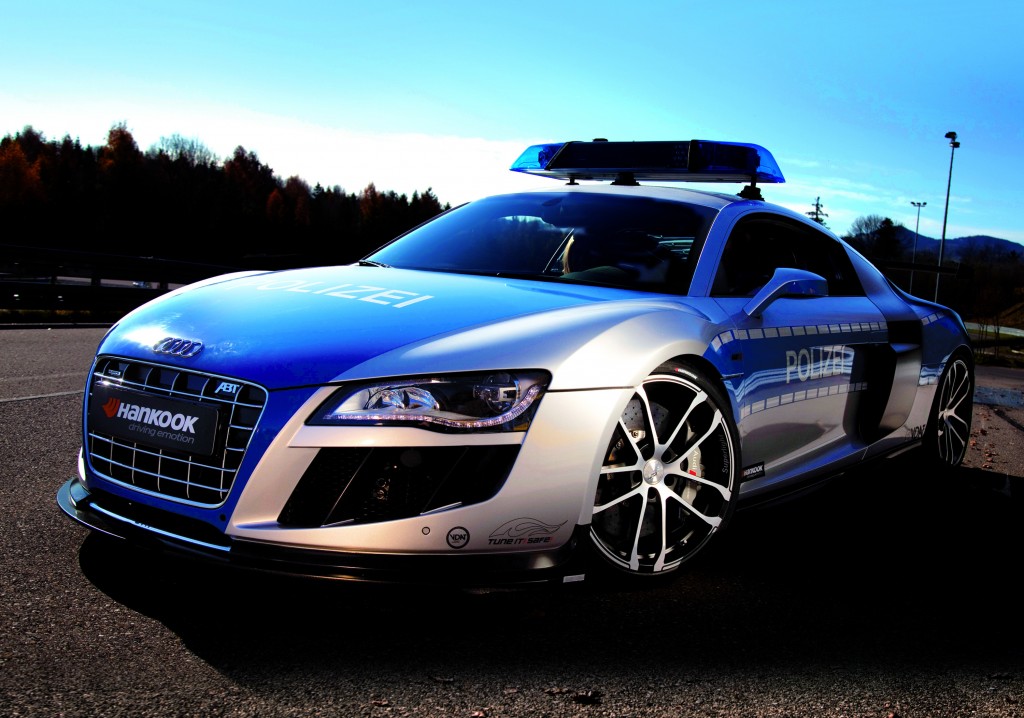 Crime-doers in Germany should start watching their back – German authorities have unveiled what is claimed to be the world's fastest police car at the Essen Motor Show.
The already stove-hot Audi R8 GT-R has been fettled by German tuner ABT Sportsline, which upped the power of the standard 5.2-litre V10 from 400 to 450kW. One hundred kilograms was shaved from the R8's weight by replacing the bonnet, front and rear aprons, adjustable rear wing, tailgate, exterior mirrors and door paneling with carbon fibre.
The project's major sponsor, Hankook Tyre, provided Ventus S1 evo tyres, speed rated for the police car's maximum velocity of 325km/hr. In order to match the ultra-high performance tyres, ABT Sportsline replaced the Audi's standard suspension with a new all-aluminium coil-0ver set-up.
The R8 GT-R police car was custom built as part of Tune it! Safe! – a public awareness campaign by the German Federal Department of Transport and the German Automobile Tuning Association (VDAT). The campaign encourages German car enthusiasts who modify their cars with aftermarket tuning products, to do it within safe and legal limits.
Hankook has partnered the campaign since 2005 when there was a massive increase in the number of shoddy and potentially dangerous tuning products entering European markets.
Speaking at the reveal of the 2012 campaign vehicle, the executive director of Marketing and Sales for Hankook in Germany, Dietmar Olbrich, said the Tune It! Safe! campaign was important to the tyre-maker.
"This is a commitment that is especially important to us, since combining maximum performance with maximum safety is at the heart of our company's Kontrol technology development philosophy."
Hankook tyres have been gaining widespread acceptance amongst German consumers, known for being notoriously demanding when it comes to their automobile and car parts.
"We are among the major players in the field of tuning, both in terms of technology and design," said Mr Olbrich.
The world's largest and fastest growing tyre manufacturer displayed two of this year's DTM series race cars at Essen Motor Show. The race cars began competing exclusively on Hankook tyres this year.
Essen Motor Show 2011 is on now until 4 December 2011 at the city of Essen, Germany. For more information, please visit Essen Motor Show official website.
Hankook Tyre Australia: http://www.hankooktyre.com.au/Main/default.aspx