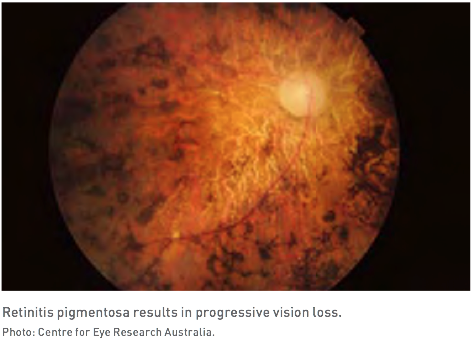 People facing progressive vision loss have high hopes for a new technology being developed by an Australian group of researchers at Bionic VisionAustralia, part of a special research Initiative funded through the Australian research Council.
The team includes leading researchers who helped to develop the cochlear implant (bionic ear), a hugely successful Aussie innovation which has brought the miracle of sound
to more than 200,000 people worldwide.
Just a short time since the $42 million funding commenced in 2009, the project is already showing encouraging results. The bionic eye consists of a camera attached to a pair of glasses, which captures the visual scene and transmits radio frequency signals to a microchip implanted in the eye. Electrodes attached to the chip convert these signals into electrical impulses which stimulate the retina, conveying signals to the optic nerve. This
retinitis pigmentosa results in progressive vision loss. photo: centre for eye research australia.
hope of a life with greater vision, mobility and independence.
That would not be possible without cutting-edge skills across an incredible range of fields, including ophthalmology, biomedical engineering, neuroscience, psychophysics and surgical and clinical practice. Researchers, doctors, manufacturers and patients need to work together to build the best possible product.
The same principle of co- operation for a common goal underpins all the grant programs the Australian Research Council administers. The Linkage Projects scheme, for example, aims to bring top researchers together with companies and end product users, so they can match their ideas to real-world needs. Nearly 2,000 different partner organisations are involved in Linkage programs already underway.
To learn more about the Bionic eye, visit www.bionicvision.org.au/
For more information on the ArC's programs, visit www.arc.gov.au
First Published @ http://www.innovation.gov.au