Dairy Australia and Western Dairy hosted the 15th annual West Australian Dairy Innovation Day where robotic milking machines were showcased as the future of the dairy industry in the country.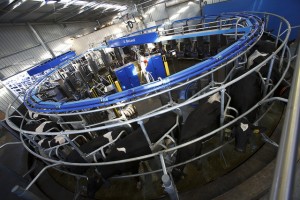 The event, which was held at Rob Giura's dairy farm last Friday, was attended by distinguished representatives from the dairy industry, who gathered to share their views on the future of the industry.
The attending guests had the opportunity to see Giura's robotic milking system in action, which was implemented a year ago.
According to the article on ABC, the robots are equipped with a laser which detects the udder and finds each teat to connect the pumps while the cow stands at a feeding station.
In addition, the system uses identification numbers to monitor now much each cow is likely to produce and is also capable of alarming the farmer if there is a blocked teat or uneven flow of milk.
Mr Giura, who established his family cheese making business, Rose Valley Cheese Company, in 1977, said he opted to implement the robotic milking system because he was unable to find a stable workforce. He said it was too soon to pass a judgment on the system's performances.
"We've had quite a few challenges in the changeover, but we're still working on it and we're making some improvements."
Rob Giura's manager, Cherie Trudgeon, said receiving information on her phone and tablet was quite handy.
"Coming from pretty simple paper-based records where everything you do on a conventional system, you do it in block time," she says.
"But now we're pretty much doing it all the time, so there's no down time."