Cardia Bioplastics Limited has announced that it has partnered with Natureworks Packaging to extend its market reach in Australia and international markets by gaining access to Natureworks' far-reaching sales force and strong distribution channel.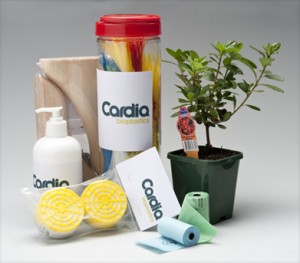 Natureworks Packaging is a supplier of biodegradable packaging and products. The Perth based company designs, markets and distributes proprietary bag and waste management products manufactured by Cardia Bioplastics using Cardia Compostable and Biohybrid™ resin technology.
According to the media release by Cardia Bioplastics, the deal will further consolidate the business ties between the two companies, which saw Natureworks place orders for  $200,000 of Cardia Bioplastics bag and waste management products during the last 12 months.
Cardia Bioplastics and Natureworks are also set to display their offering to the Australian Council and waste management industry at the Waste 2014 conference in Coffs Harbour which opened yesterday.
"The technical performance and environmental integrity of our products is paramount and at the core of our business — Cardia Bioplastics technology exceeds the high standards we've set," Natureworks Packaging Managing Director, Peter Errichetti said.
"We are therefore delighted to have secured a strategic supply relationship with Cardia for our Australian and international customers. We look forward to a long-term relationship with Cardia."
Cardia Bioplastics and Natureworks Packaging will target international markets for sustainable packaging and products with initial customer orders already received.
"The Australian market presents an excellent growth opportunity for Cardia Bioplastics due to legislative changes and an increased market demand for sustainable packaging. We are very excited about developing a new distribution channel through our relationship with an innovative company such as Natureworks Packaging," Dr Frank Glatz, Cardia Bioplastics Managing Director said.
"Both our fully certified Cardia Compostable bags and waste management products as well as our proprietary Biohybrid™ technology are ideal for the Australian and international markets. We look forward to working with Natureworks Packaging to capture market share. We are continuing to see increased demand globally for our resins, films and finished products."