The capabilities of Additive Manufacturing (AM) are increasingly being employed to service the needs of the medical technology (medtech) segment, enhancing product customisation and enabling efficient, cost-effective production and delivery.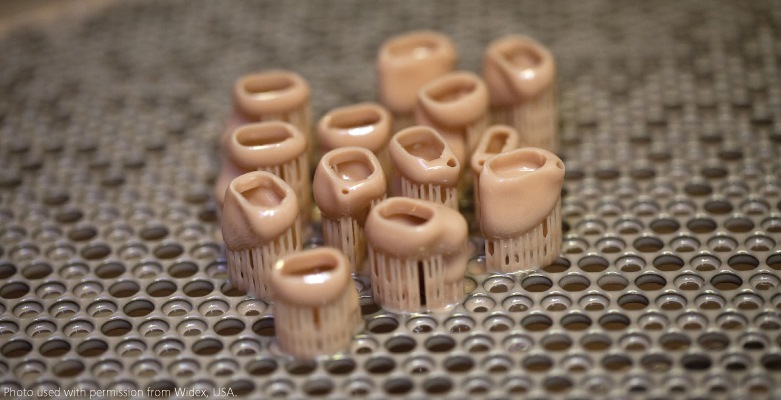 Glenn H. Snyder, the leader of Deloitte's medical technology industry practices, Mark Cotteleer, a research director with Deloitte Services LP and Ben Kotek, an analyst with the company, have produced a report on the use of Additive Manufacturing in the medical industry, highlighting its potential to become a pillar of the medical technology and science.
According to the report issued by Deloitte University Press, the medical technology segment has been a leader in the use of AM, otherwise known as 3D printing, accounting for 16.4% of the total system-related revenue for the AM market in 2012.
The report underpins the benefits that Additive Manufacturing can offer to the medical science and to the end users in particular by improving product quality, reducing cost and reducing time to market.
Many medical devices manufactured with 3D printing — such as hearing aids, dental crowns and surgical implants — are relatively small in size and therefore suitable for the production envelope sizes available through common AM systems.
Furthermore, these products are value-dense and the high level of customization available with AM makes this technology well suited for custom-fitting products to individual patients, an important factor in clinical efficacy.
The use of AM to mass-customize medical devices offers an example of ways that product evolution and supply chain modification can work in concert to deliver an improved product more efficiently.
The report also points out that AM has the potential to offer medical science the opportunity to use Bioprinters to construct living human tissue by printing successive layers of human tissue.
Motivated by the grim statistics, which says that every 30 seconds, a patient who could have been saved with tissue replacement dies instead; researchers have already had success in the field of bioprinting.
For instance, Organovo has been able to create living human tissue that successfully mimics the form and function of human organs.
According to the report, adoption of AM is likely to increase as more firms come to appreciate its potential benefits across their supply chains and products.