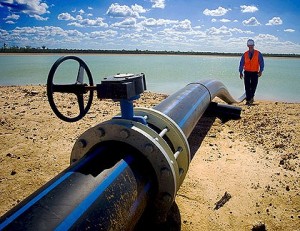 Coal-seam gas energy company Arrow Energy facing a week-long blockade in farmland just south of Brisbane has refused to deal with travelling protest groups, claiming they have a broader agenda than the concerns of local landowners.
On the other hand, protesters at Arrow Energy's exploratory drilling site at Kerry, 80km south of Brisbane are refusing to leave the blockade to negotiate with company representatives who have proposed a meeting in the nearby town of Beaudesert.
Protest organiser Innes Larkin said the whole purpose of the blockade was to stop drilling on the site. On a previous occasion where he and other organisers had attended a meeting with Arrow Energy off-site, the situation on-site deteriorated rapidly.
Arrow Energy vice-president of exploration Tony Knight accepted that protesters had valid questions about the company's drilling but did not want to attend the protest site due to concerns that local issues would be included in the broader nationwide debate over coal-seam gas mining.
Australian Petroleum Production and Exploration Association eastern region chief operating officer Rick Wilkinson said many coal-seam gas developments had been overshadowed by "well-practised" fringe activists engaging in "fear-mongering".
14 people have been arrested since the blockade began a week ago.
Source: http://www.theaustralian.com.au/national-affairs/coal-seam-gas-company-rejects-professional-activists/story-fnaxx2sv-1226247785137
Image source: Brisbane Times