Toyota Material Handling Australia (TMHA) has announced that HB Blocks, the leading manufacturer and supplier of concrete building blocks in Darwin, has commissioned four 3-tonne payload Toyota 8-FG30 forklifts on long-term rental and servicing agreement from the Toyota Material Handling Australia (TMHA) Darwin branch.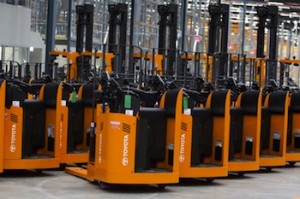 According to the press release by TMHA, HB Blocks decided to choose the rental and servicing agreement to free-up space in the company workshop.
"The new Toyota forklifts are integral to the block production cycle, their storage and distribution. They unload freshly made product, stack that product, make up and load orders, and handle pallets that need repair," said HB Blocks Director Nick Halkitis.
Toyota's 8-Series internal-combustion forklift range covers every payload capacity from 1 to 8-tonne payload. One of the key features of the range are the Automatic Fork Levelling Control to level the forks during loading, ergonomic controls and smooth, quiet operation from the Toyota engine, as well as Toyota's exclusive System of Active Stability comprising the advanced Active Swing Lock Cylinder, which helps to improve the stability of the forklift and reduce the potential for lateral tip overs.
Having bought their first Toyota forklift in 1997, HB Blocks has purchased a total of nine forklifts from TMHA.
"Toyotas are good forklifts, especially for reliability and longevity, and they are backed by good local support from TMHA," he said.
HB Blocks has nearly 180 employees and is involved in construction, manufacturing, tourism, mining, transport and maintenance.
TMHA is the Australian subsidiary of Toyota Industries Corporation (TICO) that distributes the TICO leading material handling brands of Toyota Industrial Equipment, BT Lift Trucks and Raymond Forklifts, along with the its range of Huski skid steer loaders.