Quickstep Holdings Limited, the largest independent aerospace-grade advanced composite manufacturer in Australia, has announced that it has received a new order from Lockheed Martin for 19 sets of C-130J wing flap sets.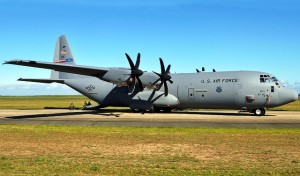 According to the ASX announcement by Quickstep, the US$11.2 million purchase order is part of the "overarching US$75 million memorandum of agreement (MOA) to manufacture wing flaps for the Lockheed Martin C-130J Super Hercules aircraft."
Under the terms of the agreement, Quickstep will supply 120 sets of carbon-fibre flaps through to 2018.
Quickstep was contracted by the global security and aerospace company to manufacture wing flaps for the C-130J Super Hercules aircraft in March 2012.
The company was selected as sole source supplier for the C-130J flaps following an international commercial tender program by Lockheed Martin and has delivered seven complete wing flap sets to Lockheed Martin since the initial set of flaps was shipped in February 2014.
"Production is continuing at an approximate rate of two sets per month and is expected to accelerate to three sets per month during the second half of 2014," the company revealed in the ASX announcement.
Every set provided by Quickstep has four wing flaps, each including more than 200 individual parts such as carbon ribs, spars and skins, all manufactured at its Bankstown Airport aerospace facility.
Deliveries under the new purchase order are set to commence in mid-2015.
"We are very pleased to receive this new order, which locks in Quickstep's C-130J delivery schedule through 2015. The continuing contract flow attests to our positive working relationship with Lockheed Martin and demonstrates our strong progress on this important aerospace contract," said Philippe Odouard, Executive Director of Quickstep.
With the new order, Quickstep has received firm production orders for 55 wing flap sets.
Quickstep also manufactures components for the F-35 Lightning II Joint Strike Fighter program.
Aside from Lockheed Martin, Quickstep collaborates with some of the largest aerospace and defence organisations in the world, including the US Department of Defence, Northrop Grumman, Airbus and EADS.