Valence Industries Limited — the owner and operator of the only graphite mining and manufacturing facilities in Australia, located at Uley in South Australia — has announced it has more than doubled the amount of stockpiled materials at the Uley graphite mine site from 74,000 tonnes to 174,000 tonnes after reassessing the nature of additional material previously understood to be overburden from historical mine records.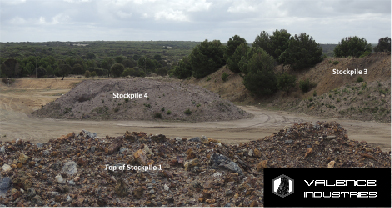 According to the ASX announcement by Valence, the new stockpile material has an average grade of 6.23% graphitic carbon. The re-analysis of stockpiles 1&2 has identified a lower average grade than in the historical assays, which is more than compensated for by the significant increase in total stockpile material. The combined stockpiles contain an implied volume in excess of 10,800 tonnes of graphite.
"The increase in stockpiles expands the period of Phase I processing to more than 12 months using stockpiled material alone, as the Phase I plant ramps up to its 14,000 tonnes per annum production rate. This provides for a longer operating period before the Phase I plant needs to start using mined material, with a corresponding positive impact on operating costs. The stockpile material processed in Phase I will be used to produce a range of high-grade flake graphite products," it says in the company announcement.
Located only 23 kilometres from Port Lincoln, the regional centre for the Lower Wyre Peninsula in South Australia, Valence Industries' Uley Graphite project is recognised as a significant area of graphite mineralisation, and one of the largest coarse flake graphite deposits in the world. The deposit contains disseminated, high-grade flake graphite and the mineralisation is near surface, with the final manufactured graphite products recognised and purchased by many customers for its high quality.
Valence Industries also holds two existing Mining Leases and two associated Retention Leases, along with an extensive Exploration License, for the conduct of its operations.