The Australian Manufacturing Workers Union (AMWU), the Construction Forestry Mining and Energy Union (CFMEU) and the Textile Clothing and Footwear Union of Australia (TCFUA) have expressed their utter disappointment in the Abbott Government after a delegation of Sri Lankan Union members were denied entry VISAs to the country.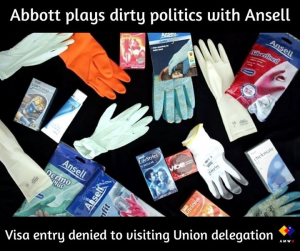 According to the media release by the AMWU, the Sri Lankan Secretary of the Free Trade Zones and General Services Employees Union (FTZGSEU), and two factory workers that were recently laid off by Australian company Ansell, which has major manufacturing operations in Sri Lanka, were denied VISAs.
The AMWU claims the decision was based purely on political grounds, although the notices issued two days before their planned arrival denied a VISA for "failing to have sufficient personal wealth".
"We have a federal government denying lawful entry into Australia based on ideology and wealth. The decision to refuse entry to three Sri Lankan delegates highlights Prime Minister Tony Abbott's prejudice against poor workers and unionists – not just in Australia but internationally too. It's a big leap to refuse a VISA to Sri Lankan visitors based on the need to have an arbitrary amount of money. There are no hard and fast rules around this, leaving the system open to political influence," said AMWU National President Andrew Dettmer.
"Is it any wonder that three Sri Lankan workers, two of whom were recently sacked by Ansell, have 'insufficient' personal funds by Australian standards? And in some ways it is an even greater affront to suggest that FTZGSEU, organising as it does on the smell of an oily rag, should have more funds than it does."
The Secretary of the FTZGSEU, Anton Marcus, has reportedly been to Australia four times and has never faced such obstacles until now.
"This is an appalling decision by the federal government that reeks of political motivation and supporting big business. These union delegates planned to come to Australia to talk about the anti-worker tactics implemented in Sri Lanka by Ansell and to seek international solidarity," said Michele O'Neil, National Secretary of the TCFUA.
"Their trip was scheduled for less than a week and included a visit to Ansell's Australian headquarters. We will continue to protest with or without our honoured guests to expose this company's harsh and unjust treatment of workers in Sri Lanka. We suspect that the Abbott Government is protecting Ansell – an Australian multinational business – above the interests of working people."
The unions are calling on the Government to immediately overturn the decision and issue the VISAs for the visiting unionists.
"It's just offensive that the accusation here is that these union delegates will seek to stay in Australian permanently. There are obviously international and domestic political interests at play here. We know that Immigration Minister Scott Morrison and Prime Minister Tony Abbott are highly secretive on arrivals in Australia, and now that predilection is being extended to VISA approvals and refusals. This decision cannot be appealed," said Victorian Trades Hall Council's (VTHC) Luke Hilakari.
"If the union movement doesn't shine a light on this event, the government can continue to get away with politically motivated VISA refusals. The AMWU, CFMEU and TCFUA call on the government to reverse this decision and allow Mr Marcus and two union delegates enter the country."