For business travelers who struggle to find an efficient and effective place to conduct meetings, Qantas has a solution for you.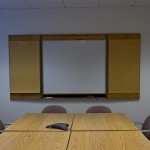 One of Qantas' business solutions provides meeting rooms that cater to your presentation specifications.
Depending on the location, number of people and special requests, the facility features rooms that can accommodate between 2 to 22 people. They also provide interactive touch panel screens, plasma screens for data projection, wireless internet access, broadband internet data points, PCs with internet access, USB point for data projection chilled water, pens, notepads, confectioneries, personal messaging services. Other features include electronic whiteboard, flipchart, additional data projectors, teleconferencing equipment and disabled access. The meeting rooms also have a common break-out area including PCs with broadband internet access, printing, copying, scanning and faxing services. They also provide catering options and have their own menu to choose from.
Meeting rooms are available in Sydney, Melbourne, Brisbane, Adelaide, Townsville, Darwin and other Australian Cities. Rates are based on the location and number of people. Prices start from $60.00 an hour.
Qantas also offers discount to Qantas Club Members, Platinum or Gold Frequent Flyers and Business Class travelers.
Meeting rooms are available from Monday to Friday from 8am to 5.30pm AEST . For bookings, you can visit
http://www.qantas.com.au/travel/airlines/meeting-rooms/global/en or call the number posted on the website.