Kuni Umi Asset Management, GE Energy Financial Services and Toyo Engineering Operation have pooled together $1.1 billion to fund the largest solar power project in Japan to date.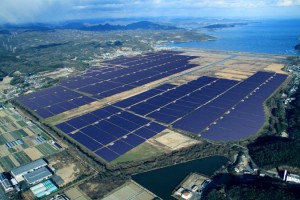 The facility will be located in Setouchi City, Okayama Prefecture, and built via special purpose company and representative member Setouchi Future Creations.
To support the project, the three owners raised an $867 million loan on a non-recourse project finance basis by a syndicate of Japanese banks, including local financial institutions.
According to the media release by GE, construction works on the solar photovoltaic plant –  which will be built on 60 hectares (1,210 acres) of city land on the former Kinkai salt field – will commence in November and will be performed by Toyo Engineering and Shimizu Corporation, with Chudenko Corporation tasked to provide operations and maintenance services.
The plant is expected to be completed in the second quarter of 2019 and sell its power to Chugoku Electric Power Company under a 20-year power purchase agreement that uses Japan's renewable energy feed-in-tariff regime.
"In addition to the Setouchi solar project, we developed a mega-solar power plant in Mito-city Ibaraki Prefecture and started the construction of a woodchip biomass fuel power plant in Kawaminami-cho, Miyazaki Prefecture. Now we are planning a wind farm in Nakadomari-cho, Aomori Prefecture. With these projects, we are contributing to the Ideal Region Development with renewable energy," said Yasuyo Yamazaki, President and Chief Executive officer of Kuni Umi Asset Management and a key player in the project.
"Japan's favorable regulatory policies make solar power attractive and diversify the country's power generation sources. For us, the Kuni Umi project expands our international and renewable energy footprints, which already include investment commitments of $1.8 billion in equity and debt in more than one gigawatt of solar power projects worldwide," said Sushil Verma, a managing director and Japan business leader at GE Energy Financial Services.
In addition to capital, GE will supply some of the inverters – marking the debut in Japan of the GE 1 MW Brilliance Solar Inverter, which eliminates the need for an intermediate transformer, resulting in higher conversion efficiency and superior grid performance.