Scientists at the Beijing Key Laboratory of CryoBiomedical Engineering, part of the Technical Institute of Physics and Chemistry at the Chinese Academy of Sciences, have developed a new conceptual 3D printing method with "ink" consisting of a metal alloy that has a melting point slightly above room temperature.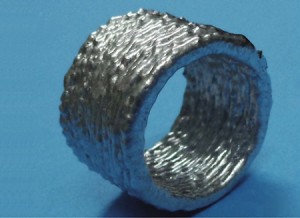 The new method, according to the article on Chinatopix, will revolutionise metal printing by making the process faster, more affordable and energy efficient by controlling the temperature of the medium used to deposit the metal ink.
Researchers Liu Jing and Wang Lei presented the liquid-phase 3D printing technique for the rapid manufacturing of a conductive metal object in one, two or three dimensions, in the study published in the journal SCIENCE CHINA Technological Sciences.
The study titled "Liquid phase 3D printing for quickly manufacturing conductive metal objects with a low melting point alloy ink" reveals a four-element alloy, the Bi35In48.6Sn16Zn0.4, which was developed and adopted as the printing ink, along with a streamlined fabrication process.
The Bi35In48.6Sn16Zn0.4 alloy is composed of bismuth, indium, tin and zinc.
The scientists said that metal that melts at low temperature has great potential uses for cooling computer chips and in numerous other areas such as thermal interface and micro fluids.
"Such material has also been proposed as printing ink with evident value in direct writing electronics and 3D printing technology" the researchers said.
As far as the fabrication process goes, first a 3D object is generated as a computer-aided design (CAD) model and then converted into a STL (stereolithography) file which is then imported into an open source software program that generates slices of the object as a set of horizontal layers and that generates tool paths for each layer. The printing ink is dropped into a liquid phase cooling fluid via an injection needle; the object is printed layer by layer.