Hardcotton, the Australian start-up founded in Canberra, has announced that its revolutionary pressure controlled stereolithography (SLA) 3D printer is now available on Kickstarter.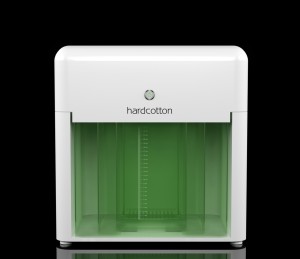 As a company that is focused on developing ground breaking technology for 3D printing, Hardcotton began work on the printer two years ago and has managed to create a product that delivers reliability, consistency and accessibility.
Hardcotton has turned to the crowd funding platform Kickstarter to finance full production of the first pressure controlled 3D printer.
"A sizeable campaign goal has been chosen so as to distribute the significant set up costs involved in the manufacture of Elemental across a larger number of pledged units. Our purpose behind manufacturing Elemental by mass production is to keep the pledge point values as reasonable as possible," said Scott Pobihun, Hardcotton Co-founder and CEO in a press release.
Elemental is the only 3D printer capable of operating by way of resin suspension (resin floating on top of a support material such as saline) or by utilising any resin with broad range of viscosity.
"Elemental achieves quality 3D prints at an affordable price. The popular early bird pledges have been snapped up but you can still secure your very own Elemental for $1100 (AUD)," said Pobihun.
Some of the key features of Elemental include:
Simple design that is attractive and functional;
Multiple printing modes with resin only or resin suspension;
Quiet when printing and simple to use;
Minimal calibration required;
Patent pending technology;
Reduced dependency on support structures.
"Whilst Elemental will be attractive to consumers, it will also be attractive to industry and is the ideal device to sit on desks and workstations everywhere," said Pobihun.
Visit the Kickstarter page to learn more and pledge your support.