German Creabis – the renowned 3D printing service for professional rapid prototyping and rapid manufacturing – has announced that it has developed a flexible 3D configurator that can be integrated into websites, helping companies offer their customers customised products.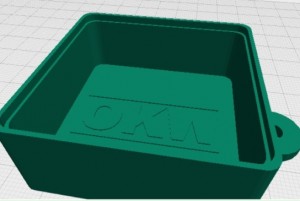 "The 3D configurator allows you to configure the size and design of a component using simple feature lists, without CAD experience and directly in your web browser. The 3D configurator can be integrated into a new or existing web environment, taking into account the company's corporate identity, while objects are printed via Creabis, " it says in the media release issued by the company.
The project implemented with OKW Gehäusesysteme GmbH at www.concept-case.com can be viewed as an example.
"High-performance products precisely tailored to the needs of customers improve your competitive position, which is why it's increasingly important for companies to offer their customers additional, customised solutions. For companies offering standard products, the configurator complements their product range. In addition, it allows for completely new business models in the field of customised adaptation of existing designs from CAD programs."
According to the company, the flexible 3D configurator is very easy to use and is not restricted to specific models or designs, allowing for numerous possibilities.
"The end-user selects a basic 3D object from those provided and adjusts it to suit their needs by using simple sliders and selection boxes. The final STL file is transferred to Creabis in the background, and the customer receives their customised object after two or three days," it says in the media release.
The 3D configurator allows for quick and easy design of personal electronics casings online.
It's up to OKW customers to determine the size, the style, how thick the wall should be and at what points on the casing the cables will pass through.
The configurable 3D models available online are created by OKW in OpenSCAD and are designed in such a way that, even after customers have made individual adjustments, larger quantities can be produced at a later date by injection moulding.
For further information, please go to http://www.creabis.de/en