Coregas, the largest Australian-owned industrial, medical and specialty gas company, has announced that it will supply gas for Hyundai's new hydrogen powered concept car, the Hyundai ix35 Fuel Cell.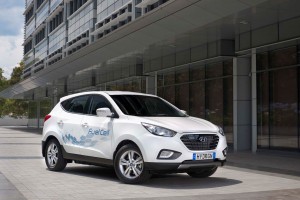 Under the agreement, Coregas will supply high purity compressed hydrogen to Hyundai's station at its headquarters in Macquarie Park, NSW, which is currently under construction and will be ready to commence operations early next year.
Coregas worked closely with Air Products, an international gases company and supplier of the refuelling station, to provide a complete refuelling solution for Hyundai.
When mixed with air, hydrogen burns 'clean' leaving only water, reducing the environmental impact of the vehicle. Longer term plans include production of hydrogen on site using solar energy and electrolysers, meaning the scheme will eventually be entirely green, emitting no harmful by-products and not burning fossil fuels.
Hyundai's concept car is the first vehicle of its kind to be permanently imported into Australia. Hydrogen-powered cars and buses are already in use in countries across Europe and America, where the instalment of networks of refuelling stations along "hydrogen highways" is well underway.