2014 was a very good year for one of the world's leading aircraft manufacturer of passenger airliners Airbus. The company announced that it "exceeded" the targets set for the year and that it has beaten its US rival Boeing for numbers of orders.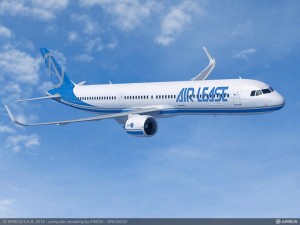 Namely, Airbus announced on Tuesday that it had won 1,456 net orders from 67 customers last year – above Boeing's total of 1,432 – and that it delivered 629 aircraft to 89 customers.
"2014 has been an excellent year and the teams in Airbus not only delivered on, but exceeded their targets and commitments," said Fabrice Brégier, Airbus President and CEO.
"Airbus also made strong progress towards a faster, simpler and more agile company, while our strategy of incremental innovation is helping to consolidate our market-leading position in all categories."
According to the press release, the company now has enough orders on its books for its aircraft for the next nine years.
At the beginning of this year, Airbus launched the A321neo with 97 tonnes Maximum Take Off Weight (MTOW) – perfect for transatlantic routes – having secured the first commitment from Air Lease Corporation (ALC).
"We are excited to be the first to sign for the new longer range version of the A321neo. ALC wants a footprint in every promising market segment, including ones that can be opened by this new version of the A321neo. We pride ourselves in being able to provide our customers with the very latest, most innovative products and solutions," said Steven F. Udvar-Házy, Air Lease Corporation's Chairman and Chief Executive Officer.
"We are delighted to officially launch the A321neo 97t option with ALC. ALC is a forward-looking company who has once again demonstrated its confidence in Airbus' latest products and innovations just six months after being a launch customer for the A330neo. The longer haul single aisle market is a lucrative one that the A321neo will now dominate, thanks to the aircraft's superior comfort, economics and range. This new version of the A321neo is a high revenue generating aircraft which will open up many new opportunities for our customers," said John Leahy, Airbus Chief Operating Officer, Customers.
For further information, please go to www.airbus.com