Scientists from the Department of Chemistry and Biochemistry at the University of Texas at Austin have developed genetic "glue" that forms gels useful for 3D printing organic tissues.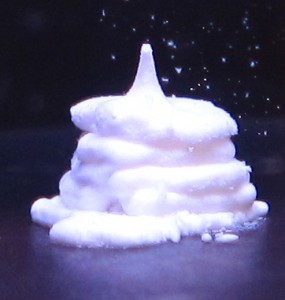 "By relying on specific DNA: DNA interactions as a "smart glue", we have assembled micro particles into a colloidal gel that can hold its shape," the researchers explain in the new journal ACS Biomaterials Science & Engineering.
"This gel can be extruded with a 3D printer to generate centimetre size objects. We show four aspects of this material: (1) the colloidal gel material holds its shape after extrusion. (2) the connectivity among the particles is controlled by the binding behaviour between the surface DNA and this mediates some control over the micro scale structure. (3) the use of DNA-coated micro particles dramatically reduces the cost of DNA-mediated assembly relative to conventional DNA nanotechnologies and makes this material accessible for macro scale applications. (4) this material can be assembled under bio friendly conditions and can host growing cells within its matrix. The DNA-based control over organisation should provide a new means of engineering bio printed tissues."
In other words, they managed to develop DNA-coated nanoparticles made of either polystyrene or polyacrylamide which were glued to each other with the DNA and formed gel-like materials that could be extruded from a 3D printer.
Nucleic acids such as DNA have been used in the past to assemble objects; however, most of these objects were nano-sized and offered very little flexibility.
Peter B. Allen, Zin Khaing, Christine E. Schmidt, and Andrew D. Ellington managed to create materials that were visible with the naked eye and very flexible and demonstrated that human cells could grow in the gels, which is the first step toward the ultimate goal of using the materials as scaffolds for growing tissues.