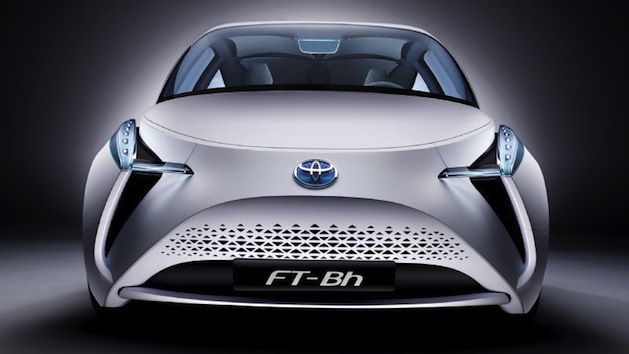 On a mission to achieve the best possible fuel economy and emissions, the design team at Toyota focused on five key areas: reducing weight, driving resistance (including aerodynamic and tyre performance), powertrain efficiency, thermal energy management, and electricity savings.
Currently on its world debut at the Geneva Motor Show, The new Toyota FT-Bh, which stands for Future Toyota B-segment hybrid, targets fuel economy of just 2.1 litres/100km and CO2 emissions of just 49 grams/km – almost twice as good as the Prius. Reduction in weight has seen the new hybrid almost the same size as the Yaris, but over 200kg lighter – weighing in at just 786kg.
In a statement from the company, 'the ultra-light concept features exceptional aerodynamic quality, very low driving resistance and a highly efficient petrol-electric system – as well as exploring compressed natural gas (CNG) hybrid and plug-in hybrid powertrains that would produce even better efficiency.'
"One year ago we challenged our engineers and designers to come up with a small super-efficient car at an affordable price, reinforcing our environmental leadership in the coming years. FT-Bh is the result: a full hybrid four-seater less than four metres long," said Toyota Motor Europe president and CEO Didier Leroy.
"It combines full hybrid efficiency, advanced aerodynamics and ultra-lightness – all achieved at a cost-level appropriate for a high-volume B-segment car.
After achieving the results in a small car, Mr Leroy is confident Toyota will  implement the benefits to the company's larger vehicles.
'Toyota recognises that a real-world reduction of total global vehicle CO2 emissions is possible only if an affordable, ultra-low emissions vehicle can be manufactured and sold in sufficiently high volumes.
That made it important that the concept did not require exotic, expensive materials or complex manufacturing procedures, but used instead only those that are already commonly available in the motor industry.' Toyota.