With a relationship spanning over 60 years, BAE Systems and Boeing have teamed up yet again for the development and manufacture of new aircraft equipment.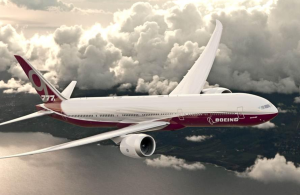 BAE Systems has been selected by the Boeing Company to develop and manufacture the Remote Electronic Units (REU) for both variants of the 777X aircraft – Boeing's latest family of twin-aisle airplanes, designed for intercontinental travel.
The collaboration was announced on Tuesday. Under the terms of the agreement, BAE will provide the new remote electronic units that manage the aircraft's flight control surface actuators and interface with the Integrated Flight Control Electronics (IFCE).
This system in particular is of critical importance as it controls the movement, and allows the plane to fly safely.
The 777X was launched in 2013 and currently has 300 orders and commitments from six customers. It will be the largest and most-efficient twin-engine jet in the world, with 12 percent lower fuel consumption and 10 percent lower operating costs than the competition.
The 777X is scheduled to begin production in 2017 and the first delivery is scheduled for 2020.
"The latest development contract for the 777X reflects BAE Systems' expertise in high integrity controls and builds on our long-standing relationship with Boeing," said Dr Ehtisham Siddiqui, Vice President and General Manager of Commercial Aircraft Solutions at BAE Systems.
"With this selection, Boeing has entrusted BAE Systems to develop the complete suite of flight control electronics, which are critical to the 777X fly-by-wire system. We look forward to supporting Boeing in introducing this advanced wide-body aircraft to the market in 2020."
BAE revealed that the REUs will be developed and manufactured across multiple BAE Systems sites.