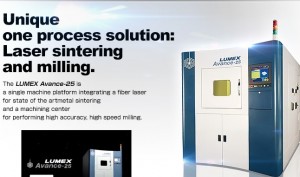 GE has announced that its Oil & Gas Division (GE Oil & Gas) has introduced the first metal 3D printers into their Japanese operations at their Kariwa plant in Niigata Prefecture to manufacture its Masoneilan control valve parts, which are used in various applications within the energy industry.
"A completely new form of product manufacturing has been realised through the advanced technology of the metal 3D printer and the full utilisation of that technology through the outstanding creativity of Japanese designers. Advanced manufacturing has changed the conventional definitions and mechanisms of manufacturing, namely design and production, while offering an abundance of merits to customers, such as faster manufacturing times and greatly reduced costs. I am confident that it will become a new standard in the manufacturing industry in the near future," said Alvin Jeffers, Senior Executive for GE Oil & Gas' Global Supply Chain.
According to the press release, the Kariwa plant uses the LUMEX Avance-25 metal 3D printer, manufactured by Matsuura Machinery Corporation, and is the first in the world to combine both additive manufacturing processes using a fibre optic laser and milling processes by a machining centre into one unit.
"We consider this metal 3D printer to be the best means for delivering high-grade products that meet the customer's individual needs in the shortest amount of time and with increased cost competitiveness. GE's Kariwa plant will continue to work to provide its customers in Japan with the most suitable control valve products and solutions in the shortest amount of time possible by making full use of its accumulated knowledge and the latest technology," said Mitsuaki Sakonju, the Kariwa plant Director.
This is not the first time that GE has turned to 3D printing. Namely, the company used 3D printers at its headquarters in the United States to manufacture parts for its jet aircraft engines, while GE Healthcare in Japan has been actively implementing and promoting "Advanced Manufacturing," which represents a new type of "manufacturing" through the introduction of a 3D plastic printer at its Hino factory.