Dassault Systèmes has launched the SOLIDWORKS Model Based Definition (MBD) – a powerful drawingless manufacturing application that improves design and manufacturing processes and reduces errors, production time and costs.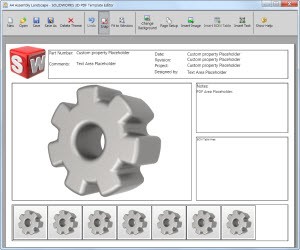 The new application – which is a key addition to SOLIDWORKS 2015 product portfolio unveiled last September – allows engineers to generate one master document for all product and manufacturing information, downstream processes, and compliance with regulations and standards without having to produce and maintain separate sets of expensive 2D engineering drawings.
"Model-based definition methodologies have been shown to reduce manufacturing errors and avoid the expense and time associated with developing 2D drawings, which can run up to 50 percent of total development costs. Every new SOLIDWORKS application that we develop is a reflection of the user community's needs. We've tailored SOLIDWORKS MBD to offer patent-pending engineering innovation for easier product design and manufacturing and faster time-to-market," said Gian Paolo Bassi, CEO, SOLIDWORKS, Dassault Systèmes.
"SOLIDWORKS MBD's compliance to MIL-STD-31000 Appendix B is close to 100%, if not at 100%. SOLIDWORKS MBD's ability to achieve a highly compliant MBD model viewing schema is as good as or even better than other CAD systems," said Rich Eckenrode, Co-Chairman of the MIL-STD-31000 manufacturing sub-committee, who defined the model based definition requirements for the United States government procurement officers.
With the SOLIDWORKS MBD application, engineers can define, organise and publish product and manufacturing information directly in 3D, which means greatly improved communication between design and manufacturing teams and reduced risk of errors.
"SOLIDWORKS MBD serves multiple use cases including communicating part and assembly information required by manufacturing, request for quotes by purchasing, and inspection reports for the QA department – in each case providing streamlined and more accurate information to all stakeholders," reads the company's media release.
About four months ago, Dassault Systèmes showcased SOLIDWORKS 2015 in Sydney, presenting all the specific features of the new SOLIDWORKS 2015 software, as well detailed information about the industries where it is utilised.
For more detailed information on SOLIDWORKS MBD, please go to http://www.solidworks.com/sw/products/technical-communication/solidworks-mbd.htm.