Stratasys Fortus 3D Production System and Volvo Trucks have managed to slash the time taken to design and manufacture certain metal tools, from 36 days to just 2 days.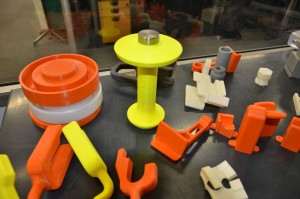 The company produces various engine types and sizes for the Volvo Group, including Renault Trucks, which the Group bought in 2001, at its engine production facility in Lyon, France.
"Stratasys 3D printing has made an incredible impact to the way we work. The capability to produce a virtually unlimited range of functional tools in such a short timeframe is unprecedented and enables us to be more experimental and inventive to improve production workflow," said Pierre Jenny, manufacturing director at Volvo Trucks.
"We're working in the heavy-industry sector, so reliability is naturally critical. So far every piece that we have 3D printed has proved to be 100% fit-for-purpose. This is crucial from a practical aspect, but also instils trust among operators and quashes any traditional notion that everything has to be made from metal in order to function properly," added Jean-Marc Robin, Technical Manager, Volvo Trucks.
Additive manufacturing allows for flexibility in terms of last minute design changes before the tools are made, thus avoiding possible wastage.
"We now have operators approaching our 3D print team with individual requests to develop a custom clamp or support tool to assist with a specific production-line issue they might be having. Additionally, in the rare case that the design specifications of a traditionally-manufactured metal tool were inaccurate, the lengthy and costly design and manufacturing process had to begin again. With a 3D printed part, we can simply alter the design specifications and re-3D print the piece in a few hours," added Robin.
"More and more of our customers are adopting additive manufacturing as the first phase to produce jigs and fixtures. As exemplified at Volvo Trucks, using additive manufacturing for tooling and work-holding devices is a reliable solution for increasing efficiency in manufacturing processes. In many cases it is also the only feasible solutions as production by traditional method is limited due to cost- or design-constraints," said Andy Middleton, Senior VP and General Manager, Stratasys EMEA.