2014 was a considerable year of change at Sunshine Refuellers (formerly known as Liquip). The rebranding of the Melbourne Australia facility is the final piece in the restructuring and the company is now trading as REFUEL INTERNATIONAL.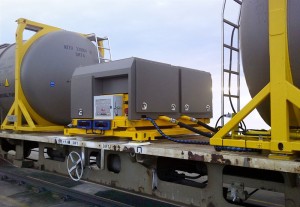 Moving forward with over 40 years knowledge and experience, Refuel International (RI) takes this opportunity of change to reposition itself from being simply an OEM for refuelling equipment, to a solutions provider, offering innovative, custom-designed solutions combined with outstanding customer service.
"RI has taken on the new year with a fresh outlook, a new approach and a robust instillation of optimism and enthusiasm to strengthen growth into the business. We are in a fortunate position of being able to offer quality solutions to customers' refuelling challenges combined with newly established local support in SE Asia," said GM, Michael Holtz.
"A major development our customers will experience in 2015 is our service division, which will now provide international support through our regional employees in Australia and Asia. We actively work to transfer service knowledge to our customers and integration partners. This unique, in time zone, or on-site service and support capability sets Refuel International apart from our international counterparts."
With its manufacturing facilities located in Sunshine West Victoria, Refuel International offers a broad range of refuelling vehicles, equipment and support services across the globe. The company designs and manufactures aviation Refuellers with a variety of tank capacities as well as Hydrant Dispensers and Hydrant Carts applicable to Commercial, Military and JIG standards. The vehicles are designed to operate and endure all conditions and environments with the flexibility for 'tailor made' options for your particular situation.
Refuel International is continuously developing innovative systems to meet customers' requirements, allowing them to stay ahead of competition. One such superior product is RI's Rail Connect Refuelling System. It is designed to allow diesel-powered trains to travel long distances without having to stop to refuel. A flatcar with two bulk diesel fuel tanks, one of which has a pumping module underneath that is connected to the diesel locomotive(s), providing constant in-transit refuelling. It is a revolutionary fuelling system that continuously replenishes the locomotive tanks during long haul operations. The system is designed so that a locomotive can be coupled to either or both ends of the inline fuelling system flatcar. Dedicated connections for fuel, electrical / MU and air are provided at both ends of the inline system.
This system provides operational efficiencies to reduce trip costs and prevent costly delays. The Fail-safe technology ensures the integrity of the system during operation and addresses environmental concerns by disallowing refuelling if there is a potential leak in the system (for example if any connectors come loose in transit). Rapid return on investment has seen this system quickly becoming standard equipment on long haul locomotives.
As a market leader in the fuelling industry, Refuel International will continually supply and support its customers, offering turnkey solutions and transferring local knowledge and expertise through customer training.
Our brand new website www.refuelin.com will focus on providing our customers with the most accurate product information and updated news on latest build and technology.