MecklerMedia announced that it will launch the "Inside 3D Printing Conference & Expo" – Asia's largest 3D Printing Tradeshow – at the Korea International Exhibition Centre (KINTEX) in Seoul on 24 June 2015.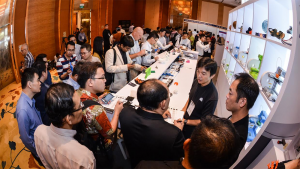 The Seoul event, which will drop the curtain on 26 June 2015, will feature two days of conference sessions led by top industry experts, plus three days of exhibitions presenting the latest 3D printers and services.
Session topics will explore the ways to apply additive manufacturing to meet industrial and commercial needs in various industries including rapid prototyping, product development, medicine, automotive, technology, software, and more.
"The "Inside 3D Printing Conference & Expo 2015 – Seoul" will deliver you the pure pleasure of exploring all 3D Printing secrets of global village from rapid prototyping, fashion designs to surgical implants," reads the news release by MecklerMedia.
"More than 100 local/overseas companies with approximately 150 booths are ready to welcome and excite the international buyers and visitors."
In an effort to provide visitors with an opportunity to see "All about 3D Printing" at one place, the show will cover a vast range of products, including 3D printers, 3D scanners, CAD/CAM software, printing material, platform service and luxury goods.
Keynote speakers include Terry Wohlers (Principal Consultant of Wohlers Associates, Inc.), Daniel Thomsen (General Manager of Stratasys Korea) and Seok Hwan You (CEO of Rokit). Panel discussion on the first day will cover "The Future for 3D Printing in Asia" under Terry Wohlers' moderation.
Click here for more detailed information about the event.