Protective clothing maker Ansell has announced the release of the new HyFlex® 11-318 cut resistant glove which delivers improved cut protection for workers handling small parts with sharp edges.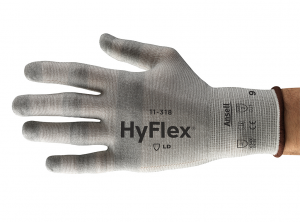 Available in six sizes, Ansell's HyFlex 11-318 gloves features silicone-free, low-lint and anti-static properties which help preserve process and product quality control.
Its ultralight, form-fitting design provides the ultimate comfort, tactility and flexibility, which makes the gloves ideal for ultra-fine mechanical applications in a wide variety of industries, including aerospace, automotive, electronics, white goods and machinery applications, as well as assembly of sharp parts, packaging, and quality inspection.
"At Ansell, we understand workers' needs and the impact our products can have on workplace productivity," said Scott Corriveau, President and General Manager of the Ansell Industrial Global Business Unit in a press release.
"Through the introduction of this silicone-free, high tactility product, we are enabling assembly workers the protection and dexterity they need, while also protecting the quality of the materials they produce."
Ansell's HyFlex brand was created in 1996 and has since become the world's best-selling precision assembly glove, empowering workers to do their job more effectively, comfortably and safely every day.
For detailed information on HyFlex 11-318 or other products from the HyFlex glove range, please go to http://www.ansell.com/en/Products/All/Hyflex-11-318.aspx.