Stratasys has announced that the MakerBot® Replicator® Desktop 3D Printer won the Red Dot Award: Product Design 2015, joining the ranks of other Red Dot winners such as the Apple iPhone (2008) and the BMW i8 (2014).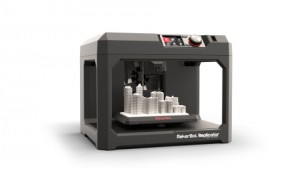 The Red Dot Award: Product Design 2015 recognises projects whose superior designs set them apart from comparable products.
The MakerBot Replicator Desktop 3D Printer was among the winners selected from almost 5,000 entries by an international jury of the Red Dot Award.
"This 3D printer features an inspiring, open design. Its clean aesthetics blend perfectly into professional and educational environments, as well as the home," stated the Red Dot jury.
"To date, nobody has applied real design to 3D printers. Many companies focus simply on the mechanical and electrical components, and neglect the design considerations that build an emotional connection with the printer and a seamless user experience. The MakerBot Replicator, with its design recognition, stands out from other printers as being more than just a collection of components," said MakerBot director of industrial design Mark Palmer.
When new products are designed, MakerBot pays special attention to ease of use and how the product fits into peoples' lives.
"We wanted to create a desktop 3D printer that was friendly, accessible and invites individuals, whether a 5th grader or a professional engineer, to engage and quickly turn an idea into a physical object," said Yuri Salnikoff, Chief Marketing Officer of MakerBot.
"The MakerBot Replicator provides direct access in the work area and empowers educators, designer and engineers to unleash their creativity."
Supported by the MakerBot 3D Ecosystem, the MakerBot Replicator features a 3.5″ display for functions, print status, and advanced features, and a rotary knob as the selector.
The MakerBot 3D Ecosystem includes MakerBot Desktop software for preparing prints, the MakerBot Mobile app with cloud platform to initiate and monitor prints remotely, and MakerBot Thingiverse, the world's largest 3D design community.
The MakerBot Replicator Smart Extruder is a ground-breaking innovation that minimises printing downtime by enabling users to swap a worn extruder in minutes and also allows them to adapt quickly to new innovations in the evolving world of 3D printing.
For more detailed information, please go to www.makerbot.com