Ansell has won the 2015 Global Frost & Sullivan Award for Technology Innovation Leadership for engineering the renowned INTERCEPT Technology into its flagship brand, HyFlex, one of the most recognised industrial brands for hand protection in the world.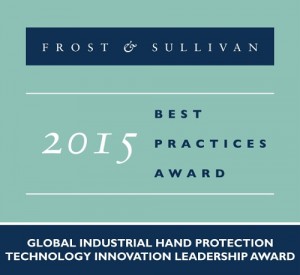 "Ansell is truly honoured to receive this designation from such a respected organisation as Frost & Sullivan. Ansell continuously pioneers exciting breakthroughs in the industrial hand protection market, and with each new innovation, the Company further displays its commitment to workplace safety and customer satisfaction," said Scott Corriveau, President& GM, Industrial Solutions at Ansell.
Growth partnership company Frost & Sullivan presents this award every year to a company that has managed to develop a unique new technology in recognition of the effort invested in innovation and R&D.
The global leading manufacturer of protection solutions for healthcare safety, industrial, and consumer protective products launched the INTERCEPT Technology with a suite of eight light-and medium-duty gloves under the HyFlex portfolio.
"The INTERCEPT Technology incorporates end-user insights and combines superior design with efficient manufacturing to create breakthrough products," said Frost & Sullivan Research Analyst Alisha Basha.
"For instance, the HyFlex gloves are tailored using their ZONZ™ Comfort Fit Technology of open-weave zones and knit designs. This technology is used around the knuckles and areas of high stress to enhance hand comfort."
The gloves with INTERCEPT Technology are designed for the automotive, machinery and equipment, and metal fabrication industries, as well as the aerospace, glass manufacturing, transport, construction and other manufacturing sectors.
"The patent-pending INTERCEPT Technology has also created significant opportunities for Ansell through supply-chain simplification. The backward integration in yarn technology has provided Ansell with the chance to re-engineer other cut protection gloves using its own proprietary yarns," said Ms Basha.