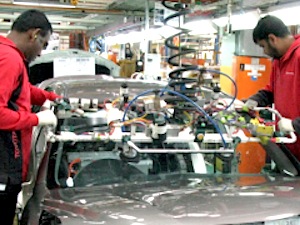 Toyota has began their process of axing 350 job cuts this week, with Monday seeing workers at the Altona plant being escorted off premises by security guards.
AMWU National Vehicle Division Secretary, Ian Jones, said the way workers were told of their redundancies was disrespectful and undignified.
"This could have been achieved in a much more respectful and sensitive way. We do not agree with the process." AMWU.
An investigation is set to be underway to reveal whether or not workers had been selected for redundancy based on their union activity.
"We'll be meeting with our shop stewards and our lawyers today (Tuesday). We're going to scrutinize Toyota's methodology," Mr Jones said.
"There's been a disproportionate percentage of shop stewards and OHS reps made redundant. There's been some selective criteria applied to our shop stewards and we'd like to know why."
Assistant Vehicle Secretary, Dave Smith, said the union's perception of Toyota has been shattered
"A part of the Toyota way, the Toyota philosophy; a central plank of that is respect, and they have shown no respect for their workforce today, none whatsoever."
Federal Workplace Relations Minister, Bill Shorten, has insisted the Federal Government will be working with the AMWU to help the redundant employees find work.
"Those workers can turn around and face their families and say, 'well the Government's got an employment coordinator, they're going to provide special assistance so that we can find and re-enter the workforce as soon as possible. Because mum and dad didn't lose their job because they did anything wrong. Mum and dad have been affected by the high Australian dollar which is making it difficult for manufacturing."
Source: