CreoPop, the world's first 3D printing pen with cool ink, is launching today in more than 1,000 Best Buy locations in the US.

"We are excited to finally be bringing the game-changing CreoPop pen to American households with the help of Best Buy. I grew up using LEGO to make 3D objects and this generation will grow-up using CreoPop… The future is now!" said CreoPop's CEO Andreas Birnik in a press release.
CreoPop is unlike any other 3D printing pen available on the market as it doesn't rely on melting of plastic; instead of using thermoplastics, it uses light-sensitive ink, or photopolymers that are solidified by using LED diodes; and since no heating is required, CreoPop is safe in a home environment with children and pets around.
The 3D printing pen is also cordless, so if you want to charge it, all you have to do is connect it through USB to a power adapter or computer.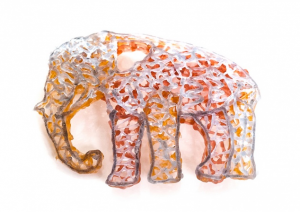 What's most interesting about this product is the selection of inks that can be used. In order for the pen to work, it needs an ink cartridge filled with the photopolymers that harden once they are exposed to LED lights. The selection of available inks is quite amazing: glow in the dark ink, temperature sensitive ink that changes colour, glittering ink, aromatic ink, elastic ink, body paint inks, magnetic ink and so on. All of the available inks come in a wide range of vibrant colours.
For more detailed info, please go to http://www.creopop.com/
Check out CreoPop in action in the video below.