South Australian Minister for Investment and Trade Martin Hamilton Smith has announced that the Hornsdale Wind Farm has been contracted to deliver an additional 100 megawatts of power to the Australian Capital Territory (ACT).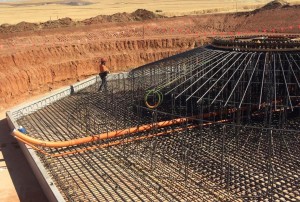 Jointly developed by French company Neoen and its Australian partner Megawatt Capital, Hornsdale is expected to power 56,000 Canberra homes and provide 13% of the ACT's projected electricity demand by 2020.
Minister Hamilton Smith said Hornsdale was the first successful project in the ACT Government's second large-scale wind reverse-auction process, which invited companies to put forward bids to the ACT Government detailing how they could generate the greatest amount of renewable energy at the lowest possible price.
"Hornsdale was awarded its first contract to deliver 100 megawatt to the Australian Capital Territory in February this year. In a great show of faith in the company by the Australian Capital Territory Government, the wind farm has now secured an additional 100 megawatt contract," the Minister said.
"Hornsdale has been able to achieve Australia's lowest known contract price for renewables at $77 per megawatt hour. This year the State Government announced Neoen's project had the go-ahead for its, 270megawatt wind farm which would create up to 250 construction jobs and 10 operational jobs."
He said that with 200 of the 270 megawatts now allocated, construction jobs will be secured for the next three years over stages 1 and 2 of the wind farm build.
"Construction is currently underway on Stage 1 with commissioning expected to occur sometime in 2017," Mr Hamilton Smith added.
He said South Australia aims to be a low-carbon electricity powerhouse and a net exporter of renewable energy in the future, targeting to achieve a $10 billion investment in low carbon energy generation by 2025 and 50 per cent of electricity production from renewable energy by 2025.
"Hornsdale will obviously be a key contributor to achieving these key targets and is a great example of the benefits of foreign direct investment into our State," the Minister concluded.